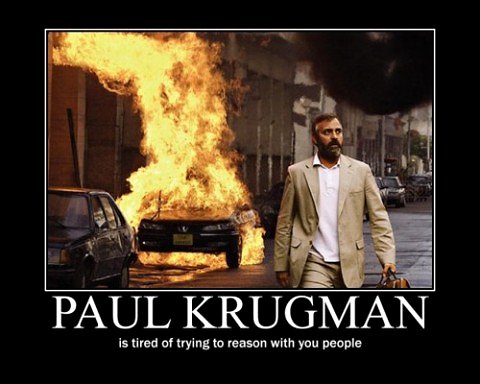 .
Professor Krugman, "Three Roads to Hard Money":
So, a hedge fund manager, a right-wing politician, and a freshwater economist walk into a restaurant and order wine. No, this isn't the setup for a joke — it's a real story. We don't actually know what they talked about, but all three have been prominent in warning that the Fed is embarked on a dangerously inflationary path. And as I have written many many times, this inflation paranoia has proved remarkably resilient, enduring despite five-plus years of utter empirical failure. Why?

What strikes me here is that we have three seemingly different stories about the roots of hard-money mania, which happen to be embodied in the persons of the three diners. One is that the wealthy hate monetary expansion because they fear that it will reduce their returns and erode their wealth, and money buys influence. One is that movement conservatism has become a closed intellectual space, within which leading political figures can and do imagine that the truth about economics can be found in Atlas Shrugged. And one stresses the internal evolution (or devolution) of the economics profession, in which the rise of rational expectations led to a great forgetting of even the most basic macroeconomic concepts….
"People of the same trade seldom meet together, even for merriment and diversion, but the conversation ends in a conspiracy against the public, or in some contrivance to raise prices." — Adam Smith
***********
Apart from that, Mrs. Lincoln, what's on the agenda today?