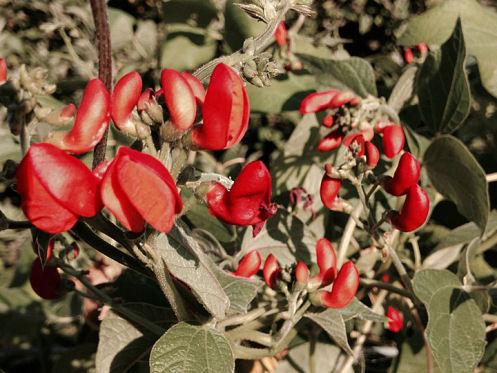 From faithful commentor, Marvel:
Over this-away, things are looking UP (i.e., stuff's growing and happy). We're looking at another heat wave (90s) this weekend, so watering & harvesting continue to dominate our outdoor activities. Can you use a metric ton of heirloom tomatoes?????


The cabbage (and cauliflower, broccoli & kale) are doing well under their fabric row covers — we'll be making soups & stews in coming months, grateful for having had the time, space & energy to plant a Fall garden.

We've spread last year's leaf mulch & planted a couple of cover crops (tyfon & crimson clover) in Area 51 — this was the first year we planted in that reclaimed space and the soil did a good job — we'll try to keep a good thing going out there.

This is the first time I planted late-season shelling peas — I found a variety that's supposed to withstand Summer's heat. So far so good.

The quinoa is riot of color. It's the same variety as the one we planted last year ("Cherry Vanilla"), but SUCH a flamboyant streak this crop's got!

Finally, the Scarlet Runner beans [top pic] are still pumping out flowers & pods. This'll probably be my last year growing this kind — I like regular old pole beans better. Since SRs are perennials, I might let the below-ground contingent over-winter in place & transplant it as an ornamental somewhere next year.
***********

How are things in your gardens this week?