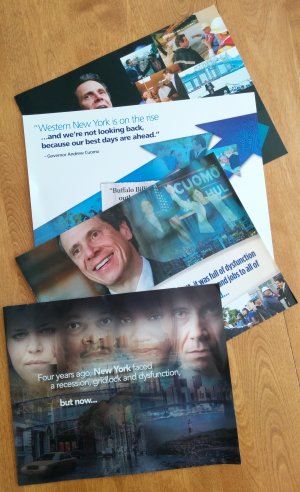 Following up on John's post, I thought you might want to see this display of Andrew Cuomo's fear and loathing, as delivered to my house. Four pieces of direct mail in two weeks, two of which arrived today. Add to that two polls, some robo-calls from Democratic luminaries (like Kirsten Gillibrand) urging me to to vote for Kathy Hochul, and Andrew hiding from view, I think he's a running scared.
So, New York Democrats, you know what to do. If you want to see Andrew's worst fears come true, vote for Zephyr Teachout in tomorrow's primary. Only about 350K Democrats are expected to vote, so your vote counts a hell of a lot more than in the average New York statewide election.
Even if you don't want to vote for Teachout, if you want to give Mario's kid some agida, split your ticket tomorrow. Vote for Wu for Lt. Gov. and Cuomo for Governor. Give him a hemorrhoid he won't forget.
Polls open at noon and close at 9 so you'll need to plan accordingly.
Update, via commenter BBA: "[V]oting hours for primaries are 6 AM to 9 PM in NYC and its suburbs (Nassau, Suffolk, Westchester, Rockland, Orange, Putnam) as well as Erie County (Buffalo), noon to 9 PM in the rest of the state".