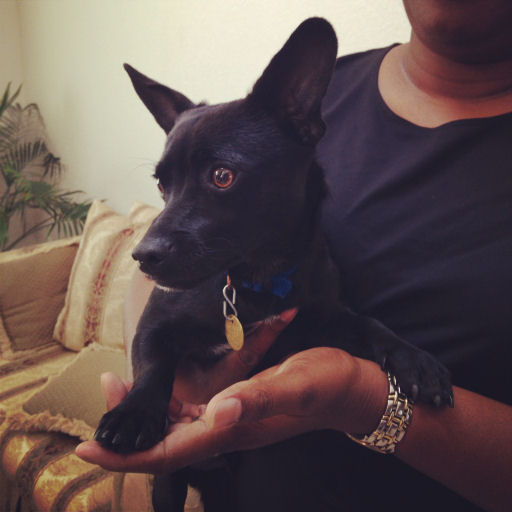 I've been remiss about sharing, lately. Here's commentor MBaquist:
I'm a long time lurker with occasional comments. Haven't had a dog for almost 20 years, till my youngest wore down his father and we made a trip to the Dumb friends league.

Oscar hopped into my daughter's lap at the Dumb friends league center, thus winning over a teen who has actively distrusted dogs all her life. She immediately took over, choosing a purple collar and leash because her dog has to be fashionable, rejecting his shelter name – Hermann – and generally running over her little brother who was the reason we were looking for a dog in the first place. Oscar was recovering from surgery on his hip – shattered when he was hit as a stray; wonder if that's why he hadn't been snapped up before?

He's since won over the other dog hater in the family – MrBaquist, taken over our lives, caused us to chase him all around the neighborhood when he pulled out of his harness (that sucker is as tight as my pre-child outfits now) and has brought a glow of happiness to the youngest that previously only Lego could do. And it's only been 3 weeks. Looking forward to many more years with the little happy monster!

PS will post another pic when MrBaquist outfits him with the metal studded collar he's been fantasizing about for a while…
***********
Ha. Our own "otherwise perfect" Houdini-rescue will be thirteen in November, but he can still give us a run, literally, when we forget to treat him like a supermax-level flight risk. That's why I changed his name to Zevon, after another excitable guy with no sense of proportion!
Apart from accidentally achieving peak cardiac rate via terror, what's on the agenda for the start of another week?