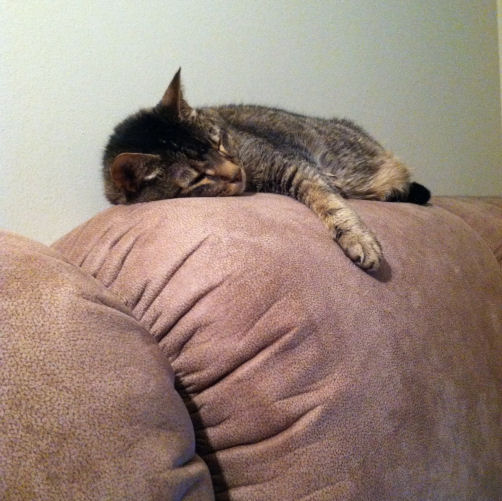 From commentor Karen:
I'm in a bad situation… I have a 14 year old kitty named Contessa who is diabetic.

I have Rheumatoid Arthritis. I was diagnosed with breast cancer in April… I'd be getting a double mastectomy. My whole world stopped from that moment and was only about the cancer. I gave Contessa as much of myself as I could but it wasn't what she deserved or needed.

When I went in for surgery, I had something set up where a pet sitting person would feed Contessa, inject the insulin and do the litter. Between the hospital stay and the rehab to rebuild my strength it was almost three weeks til I got home. She was very angry at me but I tried as hard as I could to make it up to her. I had someone that was still handling the care of her because I was weak as a kitten but I thought eventually I'd be able to take care of her again. I haven't been able to take the RA drugs for two months, which hasn't helped. On Thursday the 4th I got admitted into the hospital again because I'd developed an abscess and a bad infection and just got out on Friday the 12th and I'm even sicker from the drugs I had to get an IV for to make me better. I needed emergency surgery and now have a drain on each side of my chest.

I am getting help in paying for the care of her but that can't last forever. My RA has progressed with a vengeance to the point where I've fallen three times in two weeks and I need to use a rollator everywhere. Taking care of myself is difficult since I live by myself in independent living and I have no help. The help I'm getting to pay for the cat care can't go on forever and I can't take care of her myself so I've come to the realization that I need to give Contessa up. I'm trying to find the best options available. I live in Maryland, outside of DC.

I'm hoping that a Balloon Juicer will be willing to take Contessa… It breaks my heart to give her to someone but I know that it will be better for her to give her to a good home. If I can't find a place for her I'll have to bring her over to the shelter, I'm afraid she'll be put down. Thank you for any help you can give me, I appreciate it very much!
If anyone has a lead — someone who can take in Contessa, no-kill shelters in DC, any other help you might know about — leave a comment, or email me (click my name in the right-hand column, or annelaurie (at) verizon (dot) net) and I'll put you in touch with Karen.