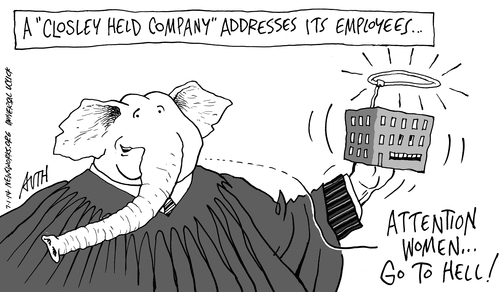 That was the very last Tony Auth cartoon on my daily GoComics page, back on July 1st. I knew Auth was old enough to retire, but I didn't realize why he was no longer drawing. From his "own" paper, the Philadelphia Inquirer:
Tony Auth, 72, of Wynnewood, the Pulitzer Prize-winning cartoonist and mainstay of The Inquirer's editorial page for four decades before resigning in 2012 to become a digital artist, has died.

Mr. Auth had been under treatment for metastatic brain cancer. David Leopold, his friend and curator, said he died at the Hospital of the University of Pennsylvania on Sunday, Sept. 14, four days after his supporters announced a fundraising effort for an archive devoted to his work at Temple University.

Mr. Auth's remarkable career began in 1971 when the fledgling artist from California flew in to Philadelphia to interview for the position of editorial cartoonist…

Over the next 41 years, Mr. Auth would use his rapier wit in thousands of carefully rendered drawings to kindle discussion on the political and cultural currents of the day. Few could view an Auth cartoon and stay mute…

In recognition of his body of work, a retrospective was assembled and shown from June through September 2012 at the James A. Michener Art Museum in Doylestown. Over 85,000 attended.

As he went through Mr. Auth's drawings, [guest curator David] Leopold was struck by their optimism. "I think the common idea people have of a cartoonist, is that they have a lot of bile at the world. Tony is not full of bile; he is a very happy, nice guy."

Leopold said: "He might not show us, or our leaders, at our best, but there is always his hope, that we will all be better."…
Michael Cavna, the Washington Post's cartoon/graphic-arts specialist, "Colleagues salute Pulitzer-winning Philadelphia journalist as a singular, big-hearted artist":
… "I'm so profoundly saddened by the news of Tony Auth's death, I find it difficult to put my feelings to words, but leave it to say that we have lost one of the true greats of American editorial cartooning," Clay Bennett, the Pulitzer-winning Chattanooga Times Free Press cartoonist, tells The Post's Comic Riffs.

"Every once in a while, an artist comes along with a singularly unique voice and a style that seems derivative of no one before him," Bennett says of his friend. "Tony Auth was such an artist."…
"Tony relished cartooning. He loved the drawing, the politics and the phone calls afterwards," Signe Wilkinson, his fellow Philadelphia political cartoonist, tells Comic Riffs on Sunday evening. "He also relished egging on other cartoonists, including young ones starting out, including me."

"I walked into his office with a putrid portfolio," says the Pulitzer-winning Wilkinson, "and he treated me like I was already one of the gang. It's one of the many reasons he's admired in the cartoon fraternity."

Cartoonist after cartoonist — and sometimes even aspiring artists who moved on to other forms of journalism — cites Mr. Auth's generosity of spirit and professional encouragement….

"Tony felt it! He had that fire in the belly that true journalists have and he trusted that fire, and his cartoons showed it," Pulitzer-winning Dayton Daily News cartoonist Mike Peters tells Comic Riffs. "He went with ideas that most of us cartoonists would not have the courage to draw, and he did it with such a flair. A few brilliant lines that … came across pure. He always joked about doing a 20-second cartoon, but you see his ideas were pure and his drawings were pure. It was a deadly combination that made his cartoons so special and that no other cartoonist could do…
There's a video clip over there, of Auth's speech when he won the 2005 Herblock award. It made me laugh, even as I teared up a little.
Auth was also, briefly, a "funny pages" cartoonist, collaborating with Daniel Pinkwater (children's book author, dog whisperer, NPR stalwart) as described by Toonopedia:
Norb was a scientist and an adventurer, in the Indiana Jones tradition… He was assisted by a girl named Rat; a dwarf wooly mammoth named Eugen, whom he'd picked up in Yakutsk; and Jacobowitz, a stooge. Together, they battled mad disk jockeys, Tibetan monks from a lamasery in Los Angeles, the talking fish of an underwater floating island, and similar menaces. The only time a major plotline was resolved was when the series ended.

This came quickly — in fact, the strip lasted only 52 weeks, just short of a year. The decision to fold it was made because of poor reception. Only two positive responses came in, but they were impressive enough — novelist Chaim Potok and cartoonist Jules Feiffer were its only vocal fans while it was running. Other mail, Pinkwater later said, wasn't just indifferent — some of it was downright hostile. King Features, which didn't shy away from non-mainstream features like Krazy Kat, Zippy the Pinhead and Jacky's Diary, drew the line at Norb.

After the comic ended, it was a different story. People who missed it became quite vocal about wanting it back, but it was too late. Their only consolation was a 1991 collection of daily strips from Mu Press… — the only time Norb ever got off the newspaper page.
I still have that book (which, IIRC, was very badly & cheaply produced), and a bulging file folder somewhere of strips clipped from the Boston Globe. Be a great tribute for someone with better access to get permission to scan those strips and get them online, so that a generation much more attuned to Norb's deadpan dada-ism would have a chance to enjoy them!