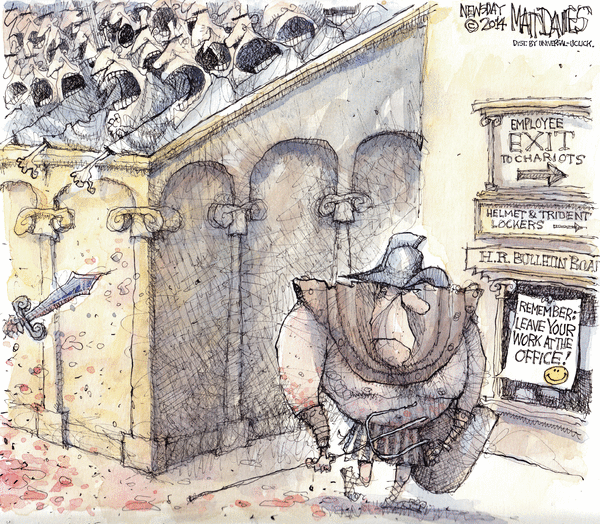 (Matt Davies via GoComics.com)
As a starting point: It is always wrong to hit women, children, or people who are smaller than the hitter. Violence is not the solution, no matter how much it may seem like a solution. Certainly your parents never hit you, quite probably not even a swat on the backside. Because they were smarter and wiser and more educated than that… and because you were lucky.
#WhyIStayed I was hit at home growing up. How was I to have learned relationships could be different?

— dazylady (@dazyladyblog) September 9, 2014
That tweet came from a Washington Post interview with Beverley Gooden, the woman who started the #WhyIStayed hashtag:
… Gooden listed nearly a dozen reasons it took her a year to leave her ex-husband: "he said he would change"; "I thought love would conquer all"; "my pastor told me that God hates divorce." She ended them all with "#WhyIStayed." She wasn't trying to justify remaining in an abusive relationship, she said, but to illuminate why it is so difficult for women to leave. The situations Palmer and Gooden found themselves in are all too common. The National Coalition for Prevention of Domestic Violence estimates that 25 percent of women experience intimate partner violence, and according to the National Domestic Abuse hotline, it takes an average of seven tries for a victim to leave an abusive relationship…
It makes us feel better if we can tell ourselves that abusers are just off-the-chart monsters, chemically-inflamed head trauma cases who batter the gold-digging, religiously-blinded closet masochists naturally drawn to such specimens. That's not how it happens, in this imperfect world. Charlayne Hunter-Gault, in the New Yorker, on "The Oscar Pistorius-Ray Rice Moment":
…But the domestic abuse and murder of women is not limited to a single place, whether South Africa or a hotel-casino in Atlantic City. The World Health Organization calls violence against women "a global health problem," with its most recent statistics showing that thirty-five per cent of women worldwide have been victims of domestic violence, and thirty-eight per cent of murders of women were committed by an intimate partner. Sonke's executive director, Dean Peacock, said, "Multiple surveys carried out in nearly all regions of the world have found that the strongest factors associated with men's use of violence against women are social norms that support men's collective dominance over women." Peacock added, "Children's exposure to violence in the home, alcohol abuse, and easy access to guns all contribute to the unsafe environment women and children find themselves in."…
And that's the other big dirty secret: As the hippy-dippy classroom posters put it, Children learn what they live…
I grew up in a physically abusive household, one that was just slightly more "hands-on" than most of the other blue-collar Irish or Italian or Polish households in our Bronx neighborhood. My mother (the unmedicated manic-depressive) would bait my father (the functional alcoholic) into hitting her. She'd also take out her rages on us kids, or we'd just get in the way of her rage at the unfairness of the world. Growing up that way made me fearless, in some ways. It also left me with some unsocial habits of which it would take years to break myself. During my freshman year of college, a classmate tapped me on the shoulder during a heated discussion, and I automatically took a swing at him. (Fortunately, he was an acquaintance, and an excellent dodger.) It's one of the many, many reasons I chose never to have kids.
Pretending that domestic violence — against partners or children — is just an exceptional failure by outliers lets the rest of us sleep better (#notallsportsprofessionals) but it's demonstrably not how our flawed society works. I have a fuzzy idea that the National Football League Players Association offers rookies classes in things like money management, since so many underprivileged newbies failed to pass the "woo hoo six-digit signing bonus!!!…" test. Perhaps it would be more honest to offer NEW RULES GUYS: NO HITTING CIVILIANS, NOT EVEN WHEN THEY TOTALLY ASK FOR IT classes, rather than pretend that kind of behavior doesn't happen in our nice clean civilized country?