New York Senator Kristen Gillibrand discussed her harassment at the hands of her Senate colleagues, and explained why she didn't immediately castigate her peers for being cads.
As a male, and not one to often be hit with remarks about my body (except my mother and my doctor- "You really need to lose some weight"), I think her logic makes a lot of sense, and I'm betting a lot of you out there who have gone through this sort of humiliating experience will agree her description of events is not only plausible, but pretty much mimics your encounters with harassers. This is a prime moment for everyone to reflect on the fact that the Mad Men guide to women in the workplace is not what we are striving for as a nation. Unfortunately (or should I say completely predictably), our media betters have completely missed the damned point: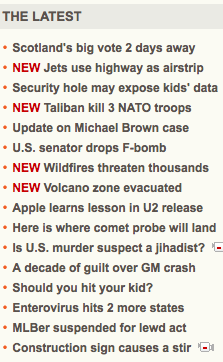 Sigh, CNN. Take it away, Booman:
A U.S. senator from New York says the f-word on video. Politico, not quite realizing that New York is populated by New Yorkers, clutches pearls in horror.

Here's a clue, morons. The gentle lady from New York was talking about the inability of her male colleagues in the Senate to decide whether it's a good thing she's working out so she won't get porky or a bad thing because they like their women chubby. Apparently, there's no shortage of people who badly need to be told to go fuck themselves.
Exactly. This and Anne Laurie's post this morning remind me of the old days of endless debates about blogger civility and the glorious existence of Shrillblog, when what mattered to our media betters was not the fact that bloggers were right, but that they used four letter words to demonstrate their point and outrage.