Apparently Urban Outfitters is feeling some well-deserved heat, so they offered a limp non-apology:
Urban Outfitters sincerely apologizes for any offense our Vintage Kent State Sweatshirt may have caused. It was never our intention to allude to the tragic events that took place at Kent State in 1970 and we are extremely saddened that this item was perceived as such. The one-of-a-kind item was purchased as part of our sun-faded vintage collection. There is no blood on this shirt nor has this item been altered in any way. The red stains are discoloration from the original shade of the shirt and the holes are from natural wear and fray. Again, we deeply regret that this item was perceived negatively and we have removed it immediately from our website to avoid further upset.
The patented "I'm sorry this offended you, but…" non-apology apology appears to have only riled up the intertrons, and what is happening to their facebook page is a thing of beauty: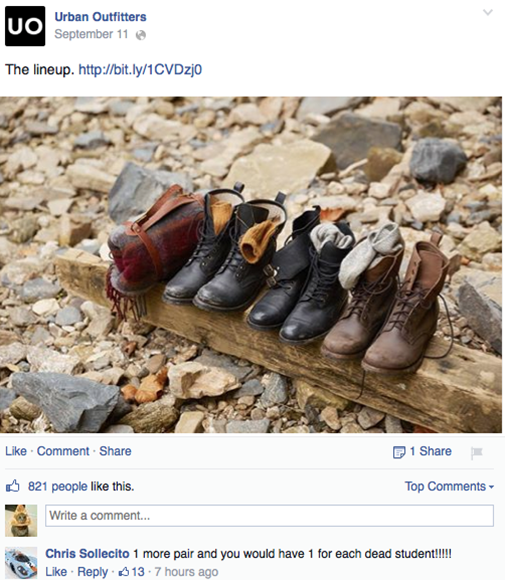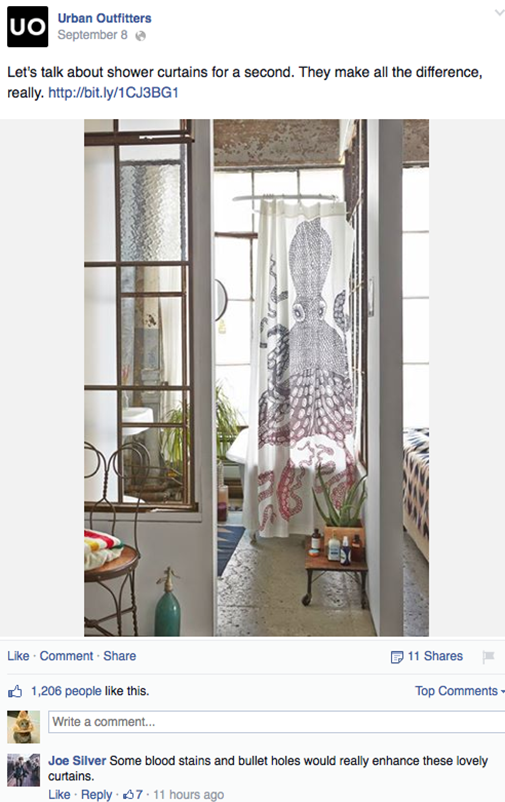 And it is like that on EVERY single post (many more pics below the fold). I honestly have no idea what these clowns were thinking. Clearly, in the aftermath of the DiGiorno #whyIstayed PR disaster and other similar stupidity, it is becoming obvious that every company needs the equivalent of an ombudsman before products go to market. We can call it the OHHELLNOman. I'll even do it for you for a small price.
Here is how it would work. Every single thing in the design and creative process would remain exactly the same, but before you take an item to the production and marketing phase, you would bring it in to me. I'll be in a room playing video games or surfing the internet or blogging or playing with Lily (who will come to work with me) or maybe just wasting time looking out the window (I will have a window), and you bring the product in, and if I see something like the Kent State shirt, I'll yell "OH HELL NO!" or "ARE YOU FUCKING OUT OF YOUR MIND" or "DOES YOUR MOTHER HAVE ANY CHILDREN WHO LIVED" or some variation, and then I will rip up the design and chase you out of the room bludgeoning you with a whiffle ball bat while threatening your entire bloodline.
I would offer my services for a low price- say $250k a year and stock options and maybe an Urban Outfitters shirt in XXXL (you fucking dickheads). And before you think that is too much money for my job (and in fairness, all I would really be doing is looking at something and saying to myself "Would someone post this on 4Chan or Reddit or Fark?"), it is going to cost Urban Outfitters tens of millions of dollars and consulting fees to unfuck this football. Not to mention, your social media department will be more productive, because they won't have to spend the day apologizing on twitter and other social media platforms.
Think about it. It's a win/win for you all. You save money and don't piss off the entire fucking country.
I'm here to help, morons.
On a side note, I can't believe we made it almost thirteen years without a "Go Fuck Yourself" category.