If you've been laughing at wingnut stupidity on blogs for awhile, you may recall the SadlyNaughts' righteous mockery of an idiot who misread the sign below as "Sasquatch Israel:"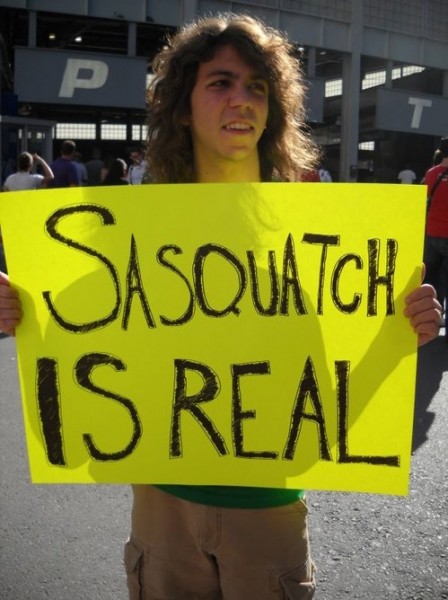 Said moron wrote an indignant post based on his misreading of the sign, in which he accused the sign holder of purveying anti-Semitic, eliminationist rhetoric by implicitly denying Israel's legitimacy with the comparison to Bigfoot.
Sure, it's a stretch. But wingnuts bloggers don't live in the Eden of low hanging fruit in which we lefties frolic. They frequently have to manufacturer causes for outrage. Why just yesterday, Power Tool John Hinderaker conjured a mythical creature known as an anti-Israel politician in the United States of America:
Elizabeth Warren is a heroine to many liberals, who hope she will challenge Hillary Clinton from the left. Even apart from the concept of anyone being to Hillary's left, this seems bizarre to me. [hahahahahahaha – Ed.]

[snip]

What does it take to be a left-wing icon in today's America? There are multiple elements, but one requirement is a visceral hostility to Israel. That hostility was on display when Warren appeared at Tufts, I believe earlier today. A member of the audience said:

Eva Moseley, I'm not a student, I'm not an alumnae, but was in faculty life. I was also a Holocaust refugee and I'm extremely concerned that Jews don't do to another people what was done to them.

This received thunderous applause, in the midst of which Warren responded, "I think that's fair."
And that's it, kids: Sasquatch Israel! Never mind that Warren staunchly defends America's <3 BFF 4EVER relationship with Israel, voting in favor of sending Israel hundreds of millions of dollars during its recent dustup with Hamas and defending the occasional errant bombing of schools and hospitals on the grounds that Hamas uses the Palestinian population as human shields. Nope, Hillary Clinton is the leftiest lefty who ever lurched leftward, and Elizabeth Warren is a shrill anti-Semite who wants to grind plucky lil' Israel beneath her cruel Fauxcohontas moccasin. Yep, these people are crazy.