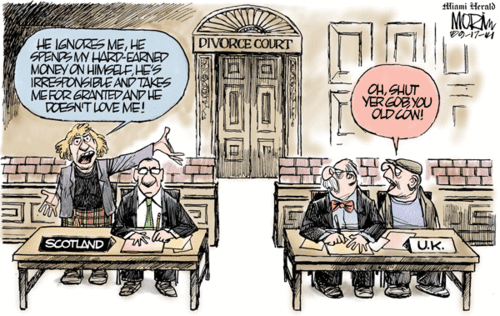 .
I have one of those generic Scottish names (although my grandparents' roots were embedded in the thin soil of Connemara — we've been out of the clan succession since at least Cromwell). So of course I also have a potmetal clan badge and a length of tartan somewhere, both inherited from my Manhattan- born father, who usually didn't fall for Ye Olde Heritage twee. But I haven't felt called upon to discuss the Independence vote here, since far more politically astute observers haven't been able to predict today's vote any more accurately than "could go either way":
… The question on the ballot paper is simplicity itself: "Should Scotland be an independent country?" Yet it has divided Scots during months of campaigning — and in 15 hours on Thursday they decide on the fate of a 307-year old union with England.

More than 2,600 polling places opened Thursday at 7 a.m. (0600GMT, 2 a.m. EDT) and will close at 10 p.m. (2100GMT, 5 p.m. EDT). Turnout is expected to be high, with more than 4.2 million people registered to vote — 97 percent of those eligible.

Polls suggest the result is too close to call, with the pro-independence Yes side gaining momentum in the final weeks of the campaign…

Once the polls close, ballot boxes will be transported to 32 regional centers for counting of the votes. The result is anticipated Friday morning.

Roberts said he was looking forward to watching the results in a pub, many of which are staying open overnight….
What could possibly go wrong, after an all-night drinking session?
Slate found a journalist "based in London & Cairo" ready to cheer for the Yes voters:
… A bit further down the hill, a massive throng of yes voters had gathered to sing songs and make each other laugh. Three teenage girls, just old enough to go to the polls on Thursday (the eligible voting age is 16), had set up microphones and guitars and were providing the entertainment. "I don't see a reason to vote no," said Margaux Durand-Watson. "People say independence is a risk, but why?" added her friend, Vendela Gebbie. "We're a rich country, but most of the kids in my class are on free school meals, and that's not right. I don't trust the politicians, and I don't trust adults who tell us we're too young to be involved. We look things up. We research the issues for ourselves. We're used to the way things are now but no one has told us why the way things are now make sense."…
Makes one a bit nostalgic for that hope & change enthusiasm, aye? At least we can be moderately certain that John McCain and Lindsey Graham (good Scottish names, those) won't demand "we" start bombing the Highlands, no matter which way the vote swings.
Apart from that, what's on the agenda for the day?