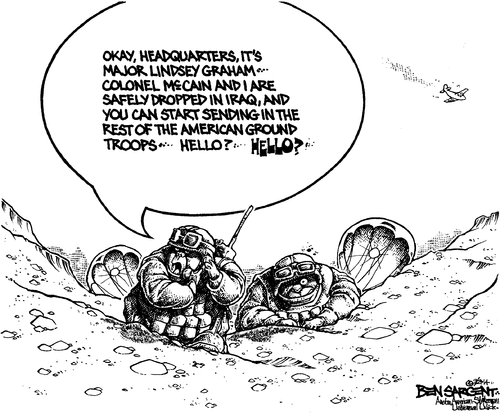 .
If only. The NYTimes reports:
The Senate gave overwhelming approval on Thursday to the training and arming of Syrian rebels, then fled the Capitol with the House for the fall campaign, sidestepping the debate over the extent of American military action until the lame-duck session of Congress later this year.

The training measure was pushed hard by President Obama, who will now sign it into law. It was tucked into a larger Senate bill to keep the government funded past Sept. 30, a maneuver that leaders of both parties favored to ensure as few defections as possible. The Senate's 78-to-22 vote, a day after the House passed the measure, masked the serious doubts that some senators had.

The broader debate over Congress's role in blessing or expanding a new military campaign in the Middle East was one that few on Capitol Hill wanted six weeks before the midterm elections. With memories of the 2002 vote to authorize force in Iraq still haunting Congress, members of both parties — especially those with their eyes on the White House — tried to find a position they would not regret…

After days of often-heated debate, lawmakers approved the ultimate punt for a Congress that has avoided difficult tasks for years. The new authorization to train the moderate Free Syrian Army expires Dec. 11.

In a statement from the White House after the Senate vote, Mr. Obama praised members of both parties. "We are strongest as a nation when the president and Congress work together," he said, calling it a "hallmark of American foreign policy at its best."…
In the proud Masshole Commonwealth tradition, both Senators Warren and Markey voted no [warning: autoplay video], as did my House rep.
The generals, of course, are being as reasonable and responsive as they usually are to President Obama's initiatives…
For the record, I'm willing to accept that President Obama is making the best of a very bad bargain, but I still deplore the whole fustercluck.
***********
Apart from predicting the worst/making fun of us cynics who always predict the worst (and predicting one of the all-time Friday doc dumps, now that the guilty parties have awarded themselves early recess), what's on the agenda for the day?