A convicted felon who was almost certainly not eligible to own a firearm shot and killed his 28-year-old daughter and her six children (ages ranging from three months to 11-years-old) in Bell, Florida yesterday before eating a gun himself. The convicted felon had spent time in jail more than a decade ago for killing his eight-year-old son in a "hunting accident."
I found it mildly surprising that the latest mass-murdering lunatic spent time in jail for that "hunting accident." Usually parents who accidentally blow their children away or enable kids to get their hands on guns and kill themselves or others are deemed to have suffered enough.
But this guy was already a felon when he killed his boy, so he went to jail on illegal gun possession charges. How was he able to obtain the guns and ammo necessary to slaughter three generations of his family yesterday? Easy. He lived in Florida. Here's a roadside sign in Bell: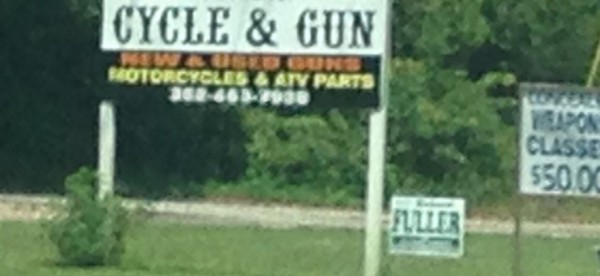 I know the area well because I have relatives nearby, and I happen to have that crappy picture (sorry) of the sign on my phone because my sister and I make a game of texting photos of signs with incongruous product groupings ("Bible & Tire," "Real Estate & Lawnmower Repair," etc.) for our amusement. Gun dealing seems to be a popular sideline.
Anyway, if this sad incident proves anything, it's that gun laws are ineffective and should therefore be abolished. Or else only the ones currently on the books should be enforced. Or more good guys should have guns — even baby good guys. A crib-mounted rifle could have stopped this monster.