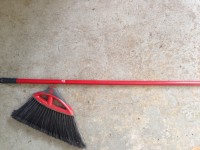 It's been awfully rainy here. The ground is completely saturated, and the ditches are brimming with standing water. When that happens in Florida, insects will seek shelter in your home, no matter how often you spray poisons to repel them or how scrupulously clean you keep your abode (not that I've ever tried the latter, but so I hear).
A particularly large specimen made its way inside earlier, and it must have been addled by the chemicals we use to try to keep them out because it charged me, running straight in my direction across the kitchen floor instead of scuttling behind an appliance or something. So I grabbed the broom and whaled on it until the broom head sheared off against the tile.
But the motherfucking palmetto bug kept coming, so I continued beating it with the broom handle, screaming, "DIE! DIE! DIE!" with each blow until I finally cracked its Kevlar carapace and dispatched it to Roachy Valhalla, where it need not be ashamed in the company of its mighty forefathers.
This is not an unusual occurrence. In fact, I may have shared a similar episode with you before, broken broom and all. I forget. Anyhoo, I texted the mister that I'd wrecked yet another broom, expecting a mild reproof about just using a rolled up magazine or shoe (as if I would come that close!) to kill bugs. But instead he replied, "Maybe you should get a four door," which was not very nice, but I admit I sort of walked right into that one.
Open thread.