The Ferguson Police Department's new PR flak was convicted of reckless homicide 10 years ago. No, really.
But he should be fired for cause if he orchestrated yesterday's PR debacle, in which Police Chief Tom Jackson first issued a video apologizing to the Browns six weeks after Jackson's officer gunned their unarmed son down and left the kid's body in the street for several hours. Then Jackson tried to join a protest against…Jackson. Astoundingly, the gesture wasn't well received: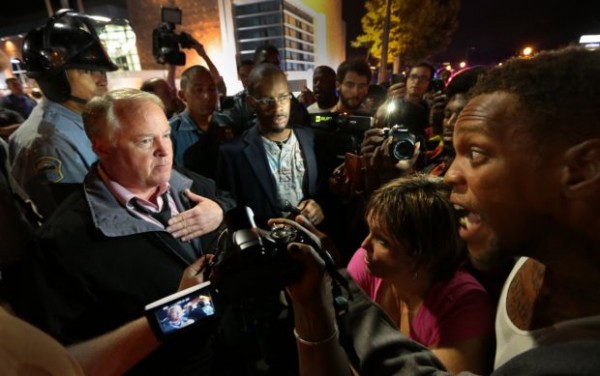 St. Louis Alderman Antonio French:
I don't think he was marching with the protesters more than 30 seconds before the riot cops came out into the crowd and tried to get themselves closer to him and protect him," said French, a St. Louis elected official who has been following demonstrations since the Aug. 9 shooting and who supports calls for Jackson's resignation. "Just them being out there pushing started stuff — it's a complete misread of the situation. His very presence agitated the crowd.
Resign already, asshole.