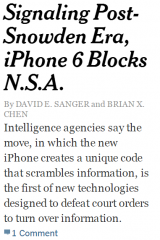 In plain language, what Apple decided to do was to encrypt data on the iPhone in a way that can't be decrypted by anyone who doesn't know the passphrase. Now let's dig into the story a bit:
The new security in iOS 8 protects information stored on the device itself, but not data stored on iCloud, Apple's cloud service. So Apple will still be able to obtain some customer information stored on iCloud in response to government requests.

Google has also started giving its users more control over their privacy. Phones using Google's Android operating system have had encryption for three years. It is not the default setting, however, so to encrypt their phones, users have to go into their settings, turn it on, and wait an hour or more for the data to be scrambled.

That is set to change with the next version of Android, set for release in October. It will have encryption as the default, "so you won't even have to think about turning it on," Google said in a statement. [Emphasis mine]
Google must have used a crystal ball when it decided to add the same feature that Apple added to Android phones a year and a half before anyone had heard of Edward Snowden. And since Jennifer Lawrence has taught us that it's pretty damn hard to keep your data out of iCloud, and other news coverage has shown that cellular carriers collect a massive amount of data about your locations, calls and texts, encrypting your mobile device is really the sleeves of a vest when it comes to privacy and the NSA. What Snowden's leaks showed was that the NSA was gathering data from cloud services, not from some exploit targeted at individual devices. So, if Apple's decision to encrypt the iPhone is a response to any branch of government, it's local law enforcement, who are used to downloading the entire contents of a suspect's phone at will. Never mind all that, though, because anything that ever happens related to data security in the last year or so is due to Snowden.
Similarly, since the narrative is that the Clintons hate the media, every time a reporter doesn't have the access they want to the Clintons, it's due Hillary and Bill's irrational hatred of the press.