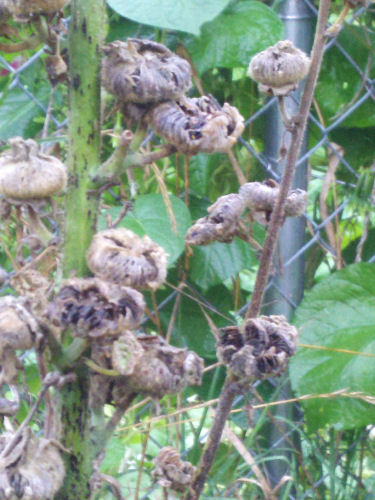 From faithful commentor Satby:
I used to assume, like most people probably do, that you save the seeds from your plants on a paper towel or coffee filter, put them in a baggie when they're dry, and that's all there was to it. But the few times I'd done that with my heirloom tomatoes, I didn't always get the exact same tomatoes growing the next year, if they grew at all. Nice tomatoes, but not the same. Turns out the potato leaf heirlooms, like the Brandywines, can cross pollinate and make new variations.

And, for best germination, you should ferment the seeds of tomatoes to inhibit disease and improve sprouting. And not save them on paper, but on a glass dish so they don't stick or get damp and moldy. I was doing it wrong for years.

My favorite resource for all seed saving wisdom is this site, which has a wealth of knowledge for veggie seed saving by variety: Howtosaveseeds.

I'm more of a flower seed saver right now, it's so much cheaper to propogate flowers by seed than to by the approximately 10 flats of annuals I used to. I have a cottage garden with hollyhocks [photo at top] that were all scavenged seeds from roadside hollyhocks, I save the seeds and reseed in new spots every year, the old spots also reseed themselves. Those are easy, pull the head, dry the seeds on a plate, bag them in a small paper envelope.

The second picture is of a petunia seed pod, my orange petunias did so well I want to try to grow them again. Not sure if they are hybrids and whether the seed will be sterile, but I'm harvesting pods to try.

The last picture just shows the comparison between the petunia seeds, which are the little black specs on the dish, compared to a round morning glory seed and a couple of hollyhock seeds (the flat ones). Super tiny! Hope they end up growing.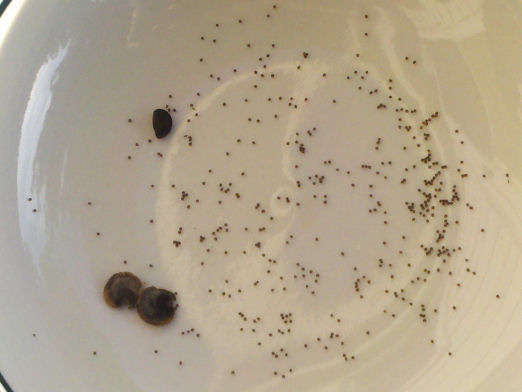 ***********
The mini-bell-pepper I bought as an experiment this year just sent out a new flush of bloom, although I'm pretty sure they won't get the chance to fruit. And the sour gherkin cucumber plant is still lush, but all the wee little 'mouse melons' dropped off at once during our first not-yet-freezing snap. But I've still got a handful of tomato plants — Carmello, Japanes Black Trifele, Ranger, some of the cherry tomatoes — with ripening fruit.
What's going on in your gardens this week?