Alex:  What is the question that evokes the answer:  "A cartoon with a watermelon punchline referencing the President of the United States."
We reply in chorus: "What was the racist garbage in the Boston Herald today?"
Again, this has been picked up in the comments, but it's been making me crazy for a couple of reasons.  For the obvious one, I'm just going to outsource to Charles Pierce, who knows the Herald very well indeed:
 Let's move along down my personal resume to The Boston Herald, where the current editors, whom I know well, today made me ashamed ever to have set foot in the place, let alone worked there for six years. They ran an editorial cartoon by someone named Jerry Holbert. In the cartoon…the White House intruder is in the bathtub while the president is brushing his teeth. The caption reads: "White House Invader Got Farther Than Originally Thought." This is what the cartoonist, Holbert, has the intruder saying from the tub.

"Have you tried the new watermelon-flavored toothpaste?"
Pierce notes the hollow contempt for those of us disgusted by this in the non-apology that followed our outcry, the assertion that there's not a racist bone in Holbert's body, that he was just referencing his own kids toothpaste, and that, wait for it….
…we didn't mean to offend anyone.  Take it away, Charles:
Of course, it was not meant to offend anyone. That was just a bonus. What it was meant to do was to appeal to the base prejudices of the elderly white suburban demographic to which the Herald has been pitching itself for three decades. It is racist hooey pitched to fans of racist hooey. Period. And, like so many other things, it is different with this president. It is different because there are no rules.
I got the remnants of my day job to get back to, so I'm just going to touch on the most clueless bit of attempted contrarian justification for this bit of garbage, this, coming from Jonathan Chait:
I don't think the joke hinges upon black people liking watermelon. I think the joke is about the Secret Service's security failures. Obama himself is not even the subject of the joke — his perspective is that of, or close to, the reader's. The point of the joke is that White House security is so lax that a random person could wander into the president's living quarters undetected and take a bath, and regard this as so casual he could chat about a commonplace topic as toothpaste.
Glad that's clear.
Black people liking watermelon is certainly not the main comic premise of the cartoon
Well, that's alright then, dear, isn't it?
and was probably not intended as a secondary premise, either.
And you know this, how? Because you've peered deeply into Holbart's eyes?  You've seen into his soul?  You know him to be a good man?
The cartoonist, Jerry Holbert, explained that he came up with watermelon because he was thinking of his kids' Colgate watermelon-flavor toothpaste.
My kids. Yeah. That's it!
Possibly he made a subconscious connection between a black president and watermelon.
Because, of course that's what anyone would do when contemplating the first African American president.
But it seems very doubtful this was his intent.
"Seems?"
"Seems!"
"Seems…"
Two things:  1 — when an experienced reporter falls back on "seems" you know they got nuthin.  They're telling you what the wish to be true, not what they know, or necessarily even think is likely.
and 2:  Chait should know better, but has tangled himself up around race before, so may not:   racism, like sexism, or anti-Semitism or any form of bigotry and dehumanization of the other, is not about what is in someone's heart.  It's not a question of essence, of identity, of who someone is.  It's all about what one does and says.  Action in the world defines both the sin and the good deed.
In this world, as opposed into that swelling in Chait's spotless mind's eye, Holbert used one of the oldest caricturers with which slave-holders benefiting from stolen lives and labor sought to limn African Americans as simple, lazy and unoppressed by their oppression.  It's an explicitly racist trope, and everyone who's reached the age of reason (Holbert is my age to the year) knows it.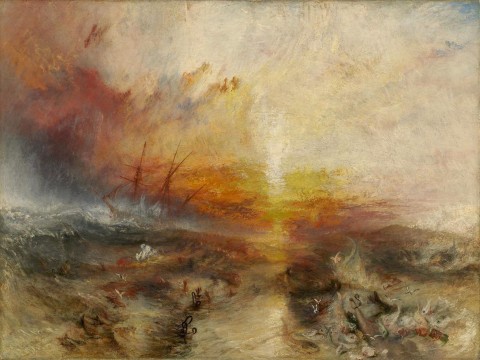 Holbert may be certain that he has not one prejudiced bone in his body, but what he or Chait thinks about intent or the "real" import of this cartoon is utterly irrelevant.
The cartoon speaks for itself, and its creator, and its defenders…to the shame I fear they will not feel.
J. M. W. Turner "Slave-ship"  1840