In the thread just below this one, Commenter JPL (update: and Rikrayh) pointed to this story at TPM* in which Ronald Kessler, writing at Politico, declares:
Agents tell me it's a miracle an assassination has not already occurred. Sadly, given Obama's colossal lack of management judgment, that calamity may be the only catalyst that will reform the Secret Service.
Give him credit (sic).  With this, Kessler hits the daily double.  He blames President Obama for something no other — and for "other," read, I'm afraid, white — President would be expected to do:  get involved in the day to day management of his protective detail.  And then Kessler adds that in imagining a fix for the problem, he regrets the necessity of the president's death.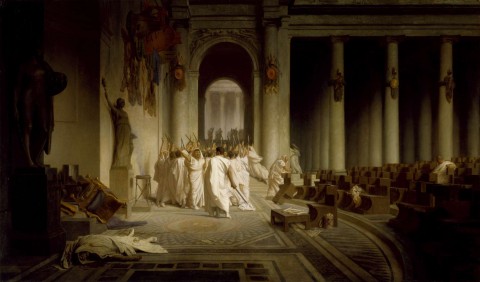 I'm gobsmacked. Completely.  On the one hand, there's nothing new here.  It is just one more instance in the long-running guerrilla propaganda war to delegitimize and disempower a twice elected president.  Its impulse is profoundly anti-democratic, deeply committed to the control of government by any means available.  It's part and parcel of the series of incidents large and small that run from heckling during a State of the Union (imagine the reaction if someone had done that to C+ Augustus!) to a claim that somehow this President mustn't appoint anyone to be approved by the current sitting Senate.
And yet, this ain't just the eternal return of the same.  You have here a writer openly near-predicting the murder of the first African American president; accusing him of the basic failures that make that murder likely, and consoling himself that after that murder, things may get better.  It's as near to cheerleading an assassination as I can imagine, while steering just clear of an explicit call for that event.
In a civilized society, advertisers and readers would flee Politico as if it suffered from the combined effects of Ebola, the bubonic plague and rabies.  And they would spit on the sidewalk anytime Mr. Kessler dared show his face.  In this one…
*No link to Politico; no rewarding the sewage rakers.
Image: Jean-Léon Gérôme, The Death of Caesar, betw. 1859 and 1867.