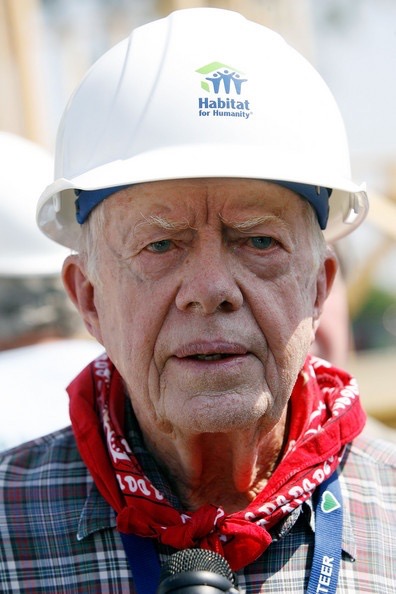 From commentor SiubhanDuinne:
The hardhat in the photo tells you everything you need to know about this good man. Best wishes to President Jimmy Carter on his 90th birthday, October 1, 2014. I have had the immense pleasure and privilege of meeting him on several occasions over the past 25+ years. When I was recovering from open heart surgery (quadruple bypass) in 2001, he sent me a personally inscribed copy of his memoir An Hour Before Daylight, accompanied by a personal letter wishing me a quick recovery. I have never been adequately able to state what that meant to me, so I'm going public with it now. Quite simply, I love this man and what he has done with his life and what he inspires in others. The happiest of birthdays to you, Mr. President, and all best wishes for many more.
Confession time: I wasted my very first presidential vote on John Anderson, in protest of President Carter's refusal to support pro-choice legislation. Best I can say in my defense is that it cured me of Purity Protest Syndrome in an election where my principled stand could not possibly have made a difference.
I truly believe that future historians (assuming there are any) will regard James Earl Carter as a man perpetually, tragically, just a few years in advance of his time, on subjects from civil rights and nuclear disarmament to environmental justice and human rights. On the other hand, he's had the good fortune to live long enough to be vindicated in all those areas, too (for all the good it does us!). Happy birthday, and many happy returns, sir!
***********
Apart from what-might-have-beens, what's on the agenda for the start of another month / the last few hours of China's National Day?