I've not commented at all about Hong Kong and the umbrella protests because I don't know enough to add anything to what much more informed people have to say.  As noted in Anne Laurie's post this morning, old China hand Jim Fallows has been tracking the story closely, and has been writing himself and keeping tabs on other smart takes on the situation.  Here I'll highlight from that list only the rather meta essay Henry Farrell put up at the Monkey Cage blog on the perils of explanatory journalism in cases, like this one, when the explaining journalist can fall afoul of his or her unknown unknowns:
Explainer journalism rests instead on the authority of the person doing the explaining.

The problem with this is twofold. First, the explainers are sometimes going to get things wrong. This is especially likely in international politics, where the explaining journalist is supposed to have expertise in far more countries and far more issues than any human being can possibly know much about. Second, the explainer is going to have difficulty in admittingthat he or she has gotten something wrong. If your authority and livelihood as a writer rests on your supposed ability to explain, you are not going to want to admit that you got things seriously wrong, even if you did.
Very useful correctives to keep on hand as we read just about any source on just about any kind of story.
So, my ignorance stipulated and reiterated, let me just add this to the mix.  If I'm CY Leung, the head of the Hong Kong government, facing an unprecedented level of protest and demands for more transparent, more democratic, and more open government, I really, really, don't want to read a post on my 22 year old daughter's Facebook page saying this:
The necklace on my profile pic is not a dog collar, silly!!!" she said. "This is actually a beautiful necklace bought at Lane Crawford (yes – funded by all you HK taxpayers!! So are all my beautiful shoes and dresses and clutches!! Thank you so much!!!!).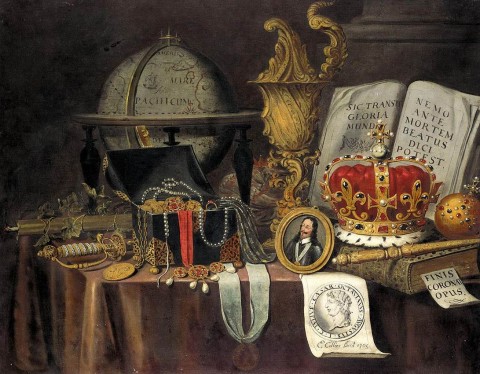 And I'm really, REALLY sure I would wish she hadn't added this:
Actually maybe I shouldn't say 'all you'- since most of you here are probably unemployed hence all this time obsessed with bombarding me with messages.
In the context of stories like this one, this is just so much not what any senior official would want to see splashed across headlines around the world.  I have no idea how this moment of scandal (or simply gaucherie) will play into events on the streets of Hong Kong and in government offices there and in Beijing.  But damn…that's some spectacular buffoonery from someone who I guess fits the definition of a red princess.
Image: Evert Collier, Vanitas Still Life,  1705.