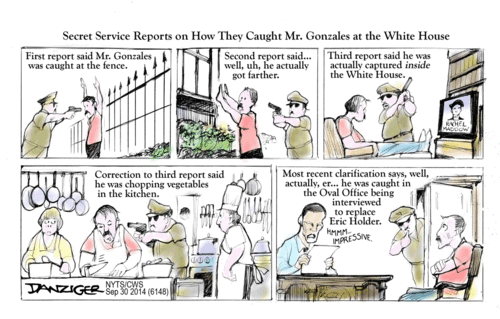 .
I've talked about the phenomenon before, but now Bryce Covert at TNR tells me it has a name:
On Wednesday, Julia Pierson, the first woman to ever lead the Secret Service in its nearly 150-year history, resigned her post amid heavy criticism over an intruder who was able to get as far as the East Room of the White House.

Reasonable people can disagree about whether, ultimately, she deserved to lose her job or whether anyone in charge during such an incident would have to resign. But it's probably not pure chance that Pierson, who held that position for just a year-and-a-half, was a woman. Time and again, women are put in charge only when there's a mess, and if they can't engineer a quick cleanup, they're shoved out the door. The academics Michelle Ryan and Alex Haslam even coined a term for this phenomenon: They call it getting pushed over the glass cliff.

Pierson was, in fact, explicitly brought in to clean up a mess. When President Obama nominated her last year, it was on the heels of news that Secret Service employees hired prostitutes in Cartagena, Colombia ahead of the president's arrival. Pierson was meant to be a breath of fresh feminine air to clear out the macho cobwebs still dogging the agency…

… Some women are able to beat the odds and step away from the glass cliff… But many women on the glass cliff simply fall off. Female CEOs, for example, are more likely to end up forced out than men. And when they leave, they are likely to get replaced by a man. As for the Secret Service, it turns out that Joseph Clancy will be Pierson's temporary replacement, even though he was in charge of the presidential detail the night the Salahis slipped past checkpoints. Make of that what you will.
Back in 2008, when random cab drivers or grocery clerks made vulgar comments about the Democratic primary choices (ask Cole about the trapper joke!), I'd "joke" right back about how once a rich white frat kid like Dubya had completely fubar'd his latest residence, it was always a woman or a not-white man who got called in to clean up the mess. You'd be surprised how many people agreed with that reasoning…
***********
That being said, what's on the agenda as we start another day?