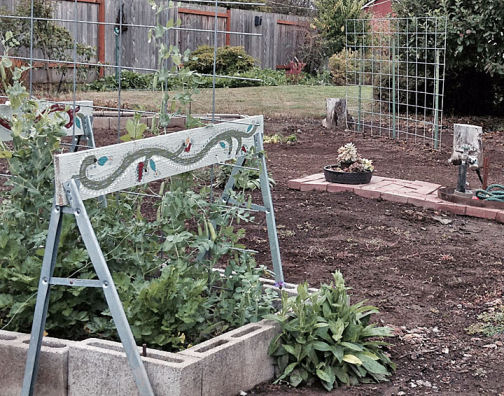 From loyal commentor Marvel:
I hope that the end of the Hectic Season finds you happy and ready for a break from gardening.

There's still armloads of fresh fruit & vegetables littering every countertop hereabouts (and plenty of peas & other Fall crops patiently waiting it out under cover out back), but we've processed the last of the tomato paste/sauce; canned all of this year's plum jelly, cran-apple sauce and spiced grape/apple juice; frozen the last of the peppers; stored all the potatoes and tucked all the cabbages & cauliflower into crispers galore.

We're pulling up spent crops and readying newly-vacated beds for next year's planting. Soon we'll clean our tools & put away the freezing & canning supplies, happy to have seen another wonderful, robust growing season (and frankly, happy to sit down for a minute or two — sheesh!).
***********
Here in New England, it's been mizzling down since Tuesday, and Fall has most definitely fallen. Assuming the weatherpersons are correct that the sun will finally emerge this afternoon, I'll be taking down the last of the tomato ladders…

What's going on in your gardens this week?