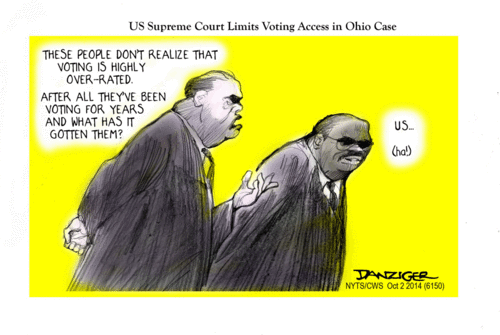 .
Linda Greenhouse, in the NYTimes, on "The Next Nine Years":
Chief Justice John G. Roberts Jr. begins his 10th Supreme Court term [today]. That's a fact all but guaranteed to startle those of us who remember as if it were yesterday the weird and intense Supreme Court summer of 2005, bracketed by Justice Sandra Day O'Connor's unexpected retirement announcement and, two months later, Chief Justice William H. Rehnquist's death at 80 from thyroid cancer. Those events propelled John Roberts, originally President George W. Bush's choice for the O'Connor vacancy, to the center chair to which the president quickly switched the nomination. At 50, he was the youngest chief justice since John Marshall. Of today's justices, only Elena Kagan, at 54, is his junior.

It has been an eventful nine terms for the court and its chief. Samuel A. Alito Jr., Justice O'Connor's eventual replacement, is well to her right and has provided Chief Justice Roberts with a reliable if narrow majority for the court's steady regression on race & its deregulatory hijacking of the First Amendment. Along with ever-expanding accommodation of religious interests, these are the areas in which the Roberts court has made its increasingly predictable mark.

Anniversaries are a typical time for this kind of stock-taking, but what's most interesting about this anniversary is not the past, but the future: the next nine years. What kind of Supreme Court will John Roberts find himself presiding over, and how will he respond to what is highly likely to be a change, in one direction or the other, from the knife edge on which his current majority rests?…
Apart from vowing to work even harder on getting every last Democratic voter to the polls next month, what's on the agenda as we start another week?