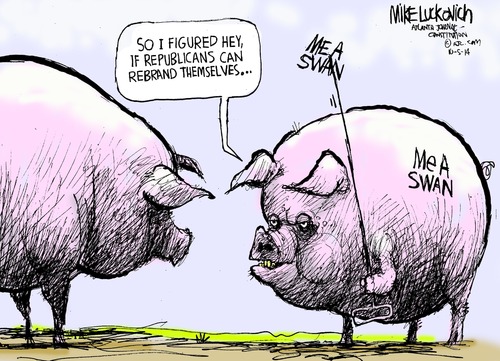 .
At a time where everything seems to have fallen into the hands of idiots, crooks, and crooked idiots, I give thanks for Mr. Charles P. Pierce and his pigbladdering of the latest Politico "competence" blather:
… Given the choice between "competence" and a guy who promises to protect them from the scary monsters of his own shrewd creation, "the American people" will choose the latter every time. (And, if the rhetoric surrounding recent events here and abroad is any indication, 2016 is going to be a fertile year for the mongering of unmoored terror.) However, Tiger Beat on the Potomac declines to address this salient concern, the better to send that Competence Gap notion aloft on great gusts of unmitigated hot air. Moreover — and, geez, it gets boring typing this over and over again — the problem with Washington is not "dysfunction." It is vandalism. It is not incompetence. It is the deliberate sabotage of the institutions of government by one half of the American political system….

Do I care what Mark McKinnon thinks about "competence" in the presidency, McKinnon having helped foist C-Plus Augustus on us, a man who has to dial 1 and an area code to reach "ignorant"?

Nope. I don't…

Republican operatives and fundraisers believe the new environment would help former Florida Gov. Jeb Bush and governors like Scott Walker of Wisconsin, John Kasich of Ohio, or Mike Pence of Indiana if they get into the race – and even Chris Christie of New Jersey or Rick Perry of Texas, despite their recent troubles.

So, to get us across Competence Gap, and because I am not wise in the ways of swallows, not being a king or anything, we have the Terri Schiavo Meddler With The Cursed Surname, The Endlessly Investigated Goggle-Eyed Homunculus Who Promised 250,000 New Jobs And Fell Miserably Short, The Formerly Youthful Phenom Who Got His Ass Kicked Around The Block In Ohio, A Human Fencepost, Another Endlessly Investigated Guy Who Took Firemen's Pensions And Handed Them Over To Pirates, and An Actually Indicted Guy. If it's all the same, I'll stay off the bridge and take the long way around, thanks…
***********
Apart from taking one's pleasures where one finds them, what's on the agenda for the day?