Generation gap in action: http://t.co/gesF2B8lp5

— Noah Smith (@Noahpinion) October 11, 2014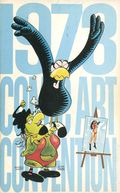 I went to the 1973 NY Comic Art Convention, in my homemade Shanna the She-Devil costume (which drew very little attention, since it was the year of the Heidi Saha/Destiny costume-call "scandal"). The high point, for me, was asking Sergio Aragones to sign my program book. (Several of his Mad co-workers immediately grabbed it and added their own mini-sketches, including one editor, because nobody ever asked for his signature.) I remember everybody was very excited, because an almost unimaginable number of memberships had been sold — "almost a thousand", IIRC, which I probably don't. Even our fertile imaginations could hardly have imagined the NYTimes business section's discussion of this year's NYCC, forty years later:
… The event, which celebrates the crossroads of comic books and pop culture, draws such huge crowds that the 151,000 tickets sold out in hours this year, leaving many fans clamoring for a way to immerse themselves in their favorite tales of science-fiction and fantasy. But even as the convention expands, it faces criticism that it has lost its focus.

Ticket sales for conventions like New York Comic Con totaled about $600 million in the United States last year, according to a study by Eventbrite, an online ticketing and events service. Revenue from ticket sales for the New York convention increased 40 percent this year over 2013, and ReedPop, the convention's organizer, says it wants it to grow even more.

The problem is that attendance, which was 133,000 last year, has reached the capacity of the Jacob K. Javits Convention Center, where the convention opened on Thursday and will run through Sunday.

So this year, ReedPop broadened the scope of New York Comic Con, adding a weeklong series of events, called Super Week. "The investment is well north of a million dollars to get this going," Lance Fensterman, the global vice president of ReedPop, said of Super Week. "We were not shy about launching this thing. It's 110 events in 25 venues all over the city."…
Little did I know that I was an early indicator of the sapping of America's precious bodily economic fluids, according to James Pethokoukis…
Why the rise of cosplay is a bad sign for the U.S. economy
Imagine you're a college graduate stuck in a perpetually lousy economy. That's a problem Japanese twenty-somethings have faced for more than 20 years. Two decades of stagnation after the collapse of the 1980s real-estate and stock bubbles — combined with labor laws making it tough to fire older workers — have relegated vast numbers of Japanese young adults to low-paying, temporary contract jobs. Many find themselves living with their parents well into their twenties and beyond, unmarried and childless. Then again, they do have plenty of time to dress up like wand-wielding sailor girls and cybernetic alchemist soldiers from the colorful world of anime cartoons and manga comics…

It's hard to blame them. After all, it's not that these young adults in Japan are resisting becoming productive members of the economy — it's that there just aren't enough opportunities for them. So an increasingly large number of them spend an increasingly large amount of time living in make-believe fantasy worlds, pretending they are someone else, somewhere else. This is a very bad thing for the Japanese economy.

And guess what: America has a growing number of make-believe "cosplay" heroes, too. Many of the 130,000 people who attend the San Diego Comic Con every year invest big bucks in elaborate outfits as a way of showing off their favorite Japanese characters, as well as those from American superhero movies, comics, and "genre" televisions shows such as Game of Thrones…

When you're disillusioned with the reality of your early adult life, dressing up like Doctor Who starts looking better and better. It's not to say that all or even most cosplay aficionados are struggling to find work. It's only to say that any rise in people fleeing reality for fantasy suggests problems with our reality…
To which Rob Bricken, at io9, responds: "That is possibly true, although it does kind of stereotype people who enjoy cosplay as poor bastards who have been trapped as immature man-children and women-children unable to cope with our current harsh economic reality, as opposed to, you know, PEOPLE WITH A FUCKING HOBBY… "
And that's the problem, isn't it? If you're James Pethokoukis, DeWitt Wallace Fellow at the American Enterprise Institute, gainful employment is the true (libertarian) heart of Our American Spirit, and anything you're not getting paid for is a dangerous distraction. For most of us, most of the time, having a job that pays enough to support us and hopefully our hobbies is important, but it's not how we measure our personal worth. Once you start thinking of cosplayers as a dangerous economic indicator, I think you've turned economics into a form of religious belief.