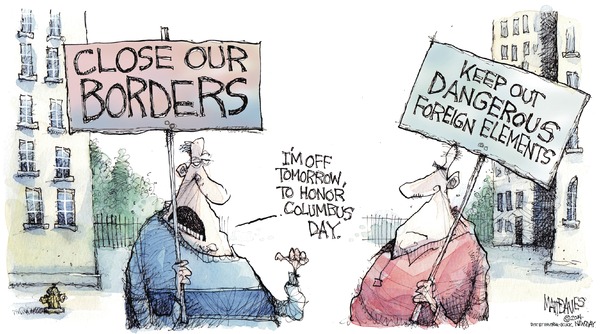 Or, if you prefer, you could celebrate another chip in the blockade:
ANCHORAGE, Alaska — A federal judge on Sunday struck down Alaska's first-in-the-nation ban on gay marriages, the latest court decision in a busy week for the issue.

The state of Alaska will begin accepting those applications first thing Monday morning, Phillip Mitchell, with the state Department of Vital Statistics, told The Associated Press in an email. Alaska has a three-day waiting period between between applications and marriage ceremonies.

The late Sunday afternoon decision caught many people off guard. No rallies were immediately planned, but some plaintiffs celebrated over drinks at an Anchorage bar…

Earlier in the week, the U.S. Supreme Court declined to hear appeals from several states that were seeking to retain their bans on same-sex marriage.

The move on Oct. 6 means that gay marriage is now effectively legal in about 30 states. But much of last week was marked by confusion as lower courts and states worked through when weddings can begin.

On Tuesday, a federal appeals court in the West overturned marriage bans in Nevada and Idaho. On Thursday, West Virginia officials began issuing gay marriage licenses, and Kansas' most populous county issued a marriage license Friday to a gay couple, believed to be the first such license in the state…
***********
Apart from enjoying the teeth-gnashing word salad from Sarah Palin and/or the Westboro Baptist thugs, what's on the agenda for a day when Friday the 13th falls on a (holiday for some) Monday?