Voter ID laws offer a classic case of Republican win-win for Republicans in that they both help the party win elections and they hurt minorities. Now insofar as it reflects basic machiavellian calculation you can sort of understand the GOP trying to tip the rules of the game in their favor. On the other hand raw fear and hate of different people is just shameful and self-destructive.
Fortunately social science has a great protocol for testing a large group for different kinds of bias. Take for example gender bias in science. Everyone knows that women have a harder time getting high-profile postdocs, securing faculty positions and winning grants but nobody had a solid handle on why. To resolve that a research team sent one identical resumé to over a hundred different research faculty and asked them to rank the candidate on various metrics. The one and only difference on the applications was the name – half had a male name on the top and the other half was female.
Responses showed a startling and highly significant disparity. On average the female candidate scored lower in competence. Faculty ranked the identical female application as less hireable, they were less interested in mentoring her and they proposed paying her an average of $4,000 less*. Female faculty showed just as much bias as men.
The scientific sting works well because it is easy and cheap. It works because people have no idea they are even taking part in a study so you can't just lie like people do to a phone survey. You can never point a finger at any one single person since it only studies how a group behaves, but in a number of ways that works out for the better. You know that good feeling that you get when someone singles out a bad actor? That feels good because it lets people tell themselves the problem is over there, in those bad people. A study is a lot more effective when it speaks for everyone. In the study I linked science collectively fell on its face. I can tell you that study shook a lot of us quite deeply. Making us all second guess our own snap judgment will ultimately do a lot more good than it does to put any person in the pillory and hand the rest of us rotten fruit.
Group data also matters a lot more to the person who does not have power. More than any single bad actor a young scientist or a black/hispanic person voting mostly wants to knwo what kind of headwind he or she will face when they apply for a job, give an interview or show up to vote (bolding mine).
USC researchers developed a novel real-world field experiment to test bias among state legislators. In the two weeks prior to the 2012 election, they sent e-mail correspondence to a total of 1,871 state legislators in 14 states.

Hello (Representative/Senator NAME),

My name is (voter NAME) and I have heard a lot in the news lately about identification being required at the polls. I do not have
driver's license. Can I still vote in November? Thank you for your help.

Sincerely,
(voter NAME)

[…] One group of legislators received e-mail from a voter who identified himself as "Jacob Smith." The other received email from "Santiago Rodriguez." […] Crucially, in each state in the study, legislators really could have simply responded with a "yes" — drivers' licenses were not required in any of the states in order to vote…[L]egislators who had supported voter ID laws were much more likely to respond to "Jacob Smith" than to "Santiago Rodriguez."
It should come as zero surprise that Republicans were a lot more motivated to help Mr. Smith vote. The Washington Post breaks down the data in graph form, but they do it in a weird way.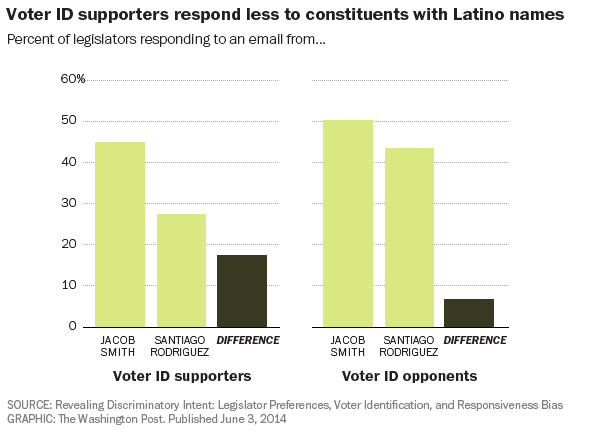 People who did not co-sponsor voter ID laws answered Santiago Rodriguez more often than sponsors did, but that list includes both Republicans and Democrats. If you take those black bars representing the disparity between answering Mr. Rodriguez and Mr. Smith and split up the data like the original authors did, the data makes a bit more sense.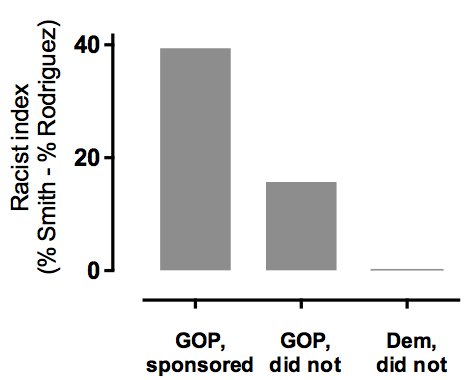 Shockingly, Republicans who sponsored voter ID laws really do not want hispanic people to vote. Republicans who did not sponsor the laws still feel a little oogy about hispanics but much less so and Democrats showed no bias at all (actually 1.8% in favor of Mr. Santiago, but far within the margin of error).
Consider this another edition of things we already know, proved by science.
(*) This last point is a really big deal. I have worked in science for those salaries, and a person can at least make do on the average salary proposed for a male applicant. The proposed female salary was on par with what graduate students make, which is pretty close to starvation wages for a young professional. I would have considered walking away from science if that was the best I could get.