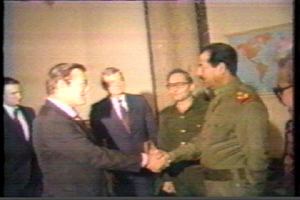 Long article in the NY Times about the old, unexploded, defunct, and buried chemical shells that we provided Saddam during the Iran/Iraq war:
The United States had gone to war declaring it must destroy an active weapons of mass destruction program. Instead, American troops gradually found and ultimately suffered from the remnants of long-abandoned programs, built in close collaboration with the West.

The New York Times found 17 American service members and seven Iraqi police officers who were exposed to nerve or mustard agents after 2003. American officials said that the actual tally of exposed troops was slightly higher, but that the government's official count was classified.

***

After the terrorist attacks of Sept. 11, 2001, Mr. Bush insisted that Mr. Hussein was hiding an active weapons of mass destruction program, in defiance of international will and at the world's risk. United Nations inspectors said they could not find evidence for these claims.

Then, during the long occupation, American troops began encountering old chemical munitions in hidden caches and roadside bombs. Typically 155-millimeter artillery shells or 122-millimeter rockets, they were remnants of an arms program Iraq had rushed into production in the 1980s during the Iran-Iraq war.

All had been manufactured before 1991, participants said. Filthy, rusty or corroded, a large fraction of them could not be readily identified as chemical weapons at all. Some were empty, though many of them still contained potent mustard agent or residual sarin. Most could not have been used as designed, and when they ruptured dispersed the chemical agents over a limited area, according to those who collected the majority of them.

In case after case, participants said, analysis of these warheads and shells reaffirmed intelligence failures. First, the American government did not find what it had been looking for at the war's outset, then it failed to prepare its troops and medical corps for the aged weapons it did find.
The usual suspects, lacking reading comprehension as well as shame, are attempting, quite feebly, to spin this as "SEE, BUSH WAS RIGHT!" Exhibit A.
Iraq WMD's: Bush said they were there but couldn't find them. Obama found them but says they weren't there.

— Erick Erickson (@EWErickson) October 15, 2014
We went to war because Bush and company told us there was an active WMD program. Aluminum tubes. Yellowcake uranium. The mushroom clouds speech. Drones targeting American cities. That was the pretext for war in Iraq. The specter of imminent danger from an extensive, active, WMD program that was a threat to the entire world.
Not decades old, buried and long forgotten and unusable weapons that we provided. Operation Desert Snipe has never ended.