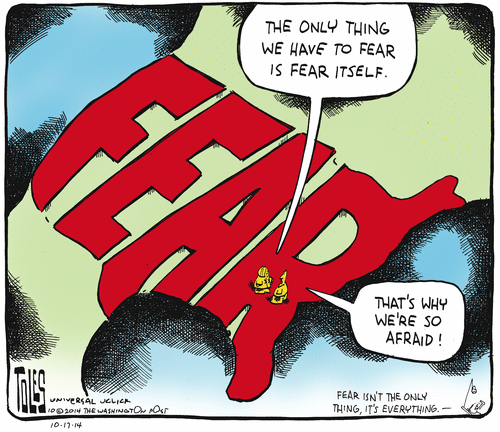 .
Yeah, I'm moderately obsessed, because Perfect Storm of Stupid. There are so many useful things we could and should be doing, and yet… from the Paper of Record:
President Obama raised the possibility on Thursday that he might appoint an "Ebola czar" to manage the government's response to the deadly virus as anxiety grew over the air travel of an infected nurse.

Schools closed in two states, hospitals and airlines kept employees home from work, and Americans debated how much they should worry about a disease that has captured national attention but has so far infected only three people here…

Earlier in the day, lawmakers on Capitol Hill pummeled federal health officials for their response to the public-health emergency that erupted after a Liberian man, Thomas Eric Duncan, tested positive for Ebola last month…
Also in the NYTimes:
Adding a new and troubling dimension to the search for Americans possibly exposed to the Ebola virus, the State Department said Friday that an employee of Texas Health Presbyterian Hospital who may have had contact with specimens of the disease had left the United States aboard a cruise ship.

The employee and a traveling partner, who were not identified by name, had agreed to remain isolated in a cabin aboard the vessel, the State Department said, and "out of an abundance of caution" efforts were underway to repatriate them. A physician aboard the cruise ship had said the employee was in good health…

"The employee did not have direct contact" with Mr. Duncan, the statement said, "but may have had contact with clinical specimens collected from him."…
Meanwhile, on the "might actually be of some use" front, per Slate:
Now that we're all agreed that Ebola is everyone's problem, we're all totally going to do better fighting it, right? Right. Beyond simply getting hysterical about the widening web of cases in the U.S. and elsewhere, fighting the virus at its source would also seem like a good idea—for everyone. Exactly one month ago—on Sept. 16—the United Nations set up an Ebola Trust Fund seeking $1 billion to do just that. On Thursday, U.N. Secretary-General Ban Ki-moon offered a status report on which countries are ponying up cash and how much they gave.

It presumably didn't take the U.N. too long to crunch the numbers on contributions. Of the $1 billion needed, only one contribution has been made, of $100,000—by Colombia. That means the U.N. is still, approximately, $9,999,900,000 short of what it thinks it will take to combat Ebola. As a barometer of global commitment, the U.N. trust fund isn't all that encouraging…
Amy Davidson, in the New Yorker:
… "We know how to stop this," Sylvia Burwell, the Secretary of Health and Human Services, said in a conference call with reporters. That is all well and good, but the C.D.C. and other health authorities, at every level, can't just "know"; they also have to act. They can't just keep repeating that simple competence, prudence, and sympathetic good sense are the answers, while exhibiting none of those traits. Those are the answers: but we have to live them.

The doctors and health workers of Médecins sans Frontières, or Doctors Without Borders, have done so, in heroic, lonesome fashion. The group has been fighting Ebola in the villages of West Africa, where the entire social structure has broken down, since well before the West cared, and with desperately few resources. Pierre Trbovic, an M.S.F. volunteer from Belgium, wrote a few weeks ago about taking on what was regarded as the most awful job at an Ebola center in Liberia: telling people that there were no more beds. "The first person I had to turn away was a father who had brought his sick daughter in the trunk of his car. He was an educated man, and he pleaded with me to take his teenage daughter, saying that while he knew we couldn't save her life, at least we could save the rest of his family from her. At that point I had to go behind one of the tents to cry," he said. The center couldn't admit more without putting all the patients at risk; there was a constant struggle "to keep the tents clean of human excrement, blood, and vomit, and to remove the dead bodies."

In August, M.S.F. had six hundred and fifty people in the field; now, it has three thousand, in six locations in Liberia, Sierra Leone, and Guinea. "Now we have reached our ceiling," Brice de le Vingne, the director of operations, said on Tuesday, according to Reuters. The same day, the group noted that sixteen of its workers had tested positive for the Ebola virus, and nine had died. That here, with our bright hospitals, we would allow the disease to spread through simple carelessness feels like a betrayal.
***********
Apart from despairing that there's no cure for stupid and it has an unfortunately high R0-value, what's on the agenda as we wrap up the week?