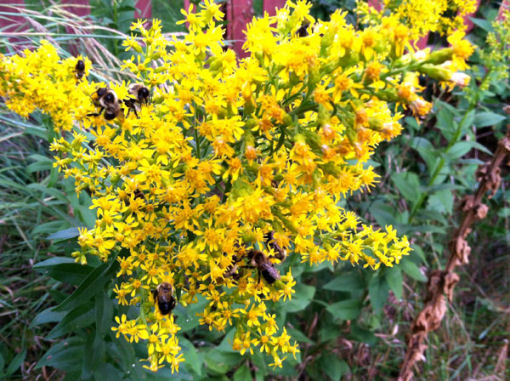 More from commentor NewDealFarmGrrl:
I joined Bumblebeewatch.org this year. My native plant rain garden (17 species) was a big hit with the bees, I tentatively identified six of thirteen species of bumblebees native to Minnesota. For bumblebee watch, a bee must be photographed, tentatively identified, then emailed to bumblebeewatch.org for verification by experts. I was at my wit's end trying to get pics of bumblebees, it was heading toward massive FAIL. My grandson thought it was hilarious, seeing me chasing around the yard and talking to the bees. "Hold still sweetie, that's it, NOOOOOO COME BACK HERE". I finally wised up and took videos with my phone, then used an app called stillShot to extract a good frame or two. That was how I ended up with one of my favorite pics, "hoveringBee." Total beginner's luck!

As i tell people in regard to critters and my native species, "If you plant it, they will come!"


As for pets – I have three cats, all siblings from a litter of my niece's cat. One male and two females, Meeko, Lynxie, and Queenie (left to right).


The dog is my beloved grandoggie GigiBears who loves to visit and play with Teh Kittehs.
***********
Quite possibly the last Garden Chat of the season, unless somebody sends me more harvest pics (or you Left Coasters step up)…
What's going on in your gardens this week?