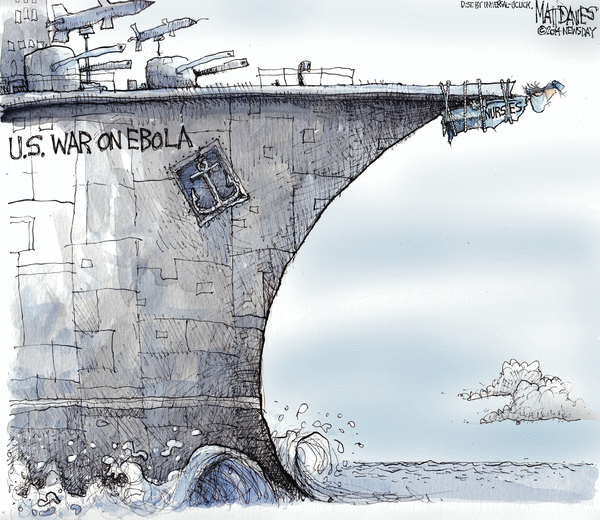 .
Nothing can be made foolproof, because the fools are so ingenious. From the NYTimes, "Life in Quarantine for Ebola Exposure: 21 Days of Fear and Loathing":
… As the Ebola scare spreads from Texas to Ohio and beyond, the number of people who have locked themselves away — some under government orders, others voluntarily — has grown well beyond those who lived with and cared for Mr. Duncan before his death on Oct. 8. The discovery last week that two nurses at Texas Health Presbyterian Hospital here had caught the virus while treating Mr. Duncan extended concentric circles of fear to new sets of hospital workers and other contacts…

Dr. Howard Markel, who teaches the history of medicine at the University of Michigan, said the quarantines recalled the country's distant epidemics of cholera, typhus and bubonic plague.

"Ebola is jerking us back to the 19th century," he said. "It's terrible. It's isolating. It's scary. You're not connecting with other human beings, and you are fearful of a microbiologic time bomb ticking inside you."

While a quarantine is designed to protect those on the outside, it also fuels the community's fear, and sometimes its cruelty.

In Payson, Ariz., paranoia ignited after word spread that a missionary who had traveled to Liberia on a church trip was spending three weeks under a self-imposed quarantine with his wife and four children. The missionary, Allen Mann, strung yellow caution tape and a "No Trespassing" sign around his front door and left a bucket in the yard for neighbors to drop off food and treats for his children.

While most neighbors understood there was scant risk that Mr. Mann, 41, had carried the disease home, rumors nevertheless coursed around town that he had tested positive for Ebola and would soon be medically evacuated. Mr. Mann said an anonymous commentator on a local news website had suggested burning down his house.

"People had this lynch-mob mentality," he said.

As with other aspects of the Ebola response, the criteria for recommending or requiring quarantine have often seemed ad hoc, random and evolving…
For the record, before I'm accused of wanting to kill innocent people: Quarantine can be a vital tool of public health, and used correctly has saved millions of lives. It's the "used correctly" that's an issue. There's a part of our brains that never evolved beyond a bunch of primates squatting on a patch of brush, bristling in suspicion of the bunch of primates in the patch of brush over there, who are known to be filthy disease-bearing sub-primates with disgusting personal habits just slavering to befoul our precious primate bodily fluids and destroy our primate way of life. And every petty would-be leader knows that screaming imprecations at those primates-who-are-not-us will attract followers…
Also in the NYTimes, "In Europe, Fear of Ebola Exceeds the Actual Risks":
… Across Europe, as in the United States, a virus that, outside Africa, has infected only a handful of people, all of them medical workers in hospitals treating Ebola patients, has stirred a wave of alarm that doctors and psychologists say reflects the insecurities of the modern mind far more than any significant danger to public health.

In Alcorcón, a town on the outskirts of Madrid where a Spanish nurse lived until she contracted Ebola virus while treating a sick priest, local businesses reported this week that their revenues had plummeted as customers stayed away. Among those hit by the scare was a hair salon where the nurse, María Teresa Romero Ramos, had gone for a waxing before she tested positive…

In Italy, which has had no confirmed cases yet of Ebola, the organizers of an international food fair in Turin asked delegates from Sierra Leone, Guinea and Liberia not to attend this year's event, which opens next week. Paola Nano, a spokeswoman for Slow Food International, the sponsor of the fair, said that this was not because of any fear of contagion but only because they "might have problems getting here."

Claudine Burton-Jeangros, a sociology professor at the University of Geneva, said that panic over the disease springs from a paradox at the heart of modern life: the more we master the world through science and technology the more frightened we are of those things we can't control or understand. "We live in very secure societies and like to think we know what will happen tomorrow. There is no place in our rational and scientific world for the unknown."…

The result has been a string of unfounded Ebola scares, which in some parts of Europe have led to entire buildings being sealed off and the people inside being held so they could be examined for symptoms…

In one particularly extreme example of overreaction, health authorities in Macedonia sealed off a hotel in the capital Skopje and kept its guests locked up there for days after a British businessman took ill in his room and died soon after being taken to the hospital. Doctors later said his problem was alcohol abuse and general ill health, not Ebola.

French authorities last week sealed off a building that houses a health and social security office in Cergy-Pontoise near Paris after two ill-looking Africans were spotted inside. They tested negative for Ebola…

Russian media, happy to report on a health crisis that has so far not challenged Russia's already overextended health service, has given extensive coverage to alarm over the virus in Europe and the United States. At the same time, Africans living in Russia have also faced suspicion and scrutiny, as has been the case in Western Europe.

Even in Germany, which has seen little panic about Ebola, some newspapers have stoked alarm. Bild, a popular daily, reported that every second German is scared of getting infected. It gave no details of how it got the figure…

Dr. Petra Dickmann, who runs a risk-communication consultancy in London, said many other diseases pose a far bigger threat to life but Ebola had taken on fearsome dimensions.

"We have been watching Africans dying for months, but think that Africans die all the time from nasty diseases that we don't have," she said. "We need to get Ebola out of this box of a scary African monster" and start communicating the real risks clearly, she said.