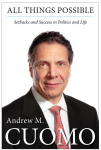 I just received a press release for this book (click to embiggen), and I'm sure you're all going to want to buy copies for friends, family and loved ones. From the email:
In what the New York Times described as "an insightful coming-of-age political autobiography", New York Governor Andrew Cuomo reflects on his rise, humiliating fall, and surprising comeback in politics. In a series of compelling, behind-the-scenes stories, he recounts his dramatic personal and political setbacks, how he overcame them when he was written off, and reveals what he's learned about effective political leadership that enabled him to enact marriage equality, gun safety, and balanced budgets.
The "humiliating fall" was a loss in the Democratic gubernatorial primary in 2002, where he withdrew after saying something stupid. Judging from this blurb, you'd think that, after that devastating setback, our plucky hero–a man born in poverty, raised by his single mother, and given no advantages in life–picked himself up, dusted himself off and valiantly worked to achieve the success he enjoys today. As if, motherfucker.
If any of you wonder whether this delusional, tone-deaf splitter is going to run for President, wonder no more. Why else would Mario's kid hire a ghostwriter to turn his silver spoon, born-on-third-base life into a saga of hard work and redemption?
Open thread because this pile of steaming horseshit doesn't deserve a thread to itself.