Via memeorandum, this letter to Dear Prudence:
Dear Prudence,

I live in one of the wealthiest neighborhoods in the country, but on one of the more "modest" streets—mostly doctors and lawyers and family business owners. (A few blocks away are billionaires, families with famous last names, media moguls, etc.) I have noticed that on Halloween, what seems like 75 percent of the trick-or-treaters are clearly not from this neighborhood. Kids arrive in overflowing cars from less fortunate areas. I feel this is inappropriate. Halloween isn't a social service or a charity in which I have to buy candy for less fortunate children. Obviously this makes me feel like a terrible person, because what's the big deal about making less fortunate kids happy on a holiday? But it just bugs me, because we already pay more than enough taxes toward actual social services. Should Halloween be a neighborhood activity, or is it legitimately a free-for-all in which people hunt down the best candy grounds for their kids?

—Halloween for the 99 Percent
You gotta love the "are clearly not from this neighborhood" bit. Wonder how she knows that?
At any rate, you sociopath, the reason you feel terrible is because you are a terrible person. But don't worry, you just momentarily had a bit of self-awareness, and I'm sure that will soon pass. The burden of being aware that you are a horrible person will go back to the rest of us who have to deal with you as you obliviously run red lights in your Mercedes coupe and do other obnoxious things.
Around here, lots of kids come from all over the area to trick or treat. This is the only real town around in between Wellsburg and Wheeling, so lots of kids who live in less pleasant areas and areas where you just can't trick or treat safely (farms, really rural areas, etc.) come here on our official Halloween celebration. We have street lights and sidewalks and the town cop drives around and the Volunteer Fire Department places trucks with their lights on to assist with the safety. The church hosts a party in the basement and there is a costume judging contest and the kids win awards for their costumes and bob for apples and the like. My fraternity boys and other fraternity boys are stationed on corners to make sure the kids who are unattended by adults are safe, and lots of parents walk with their kids from house to house and stand by the curb as the kids ring the doorbell. My favorite part is always when they meet the dogs and Tunch/Steve, and inevitably dozens of them remark how big the cat is (something that has not changed whether it be Tunch or Steve) and there are always two or three sweet little girls who want to pet Lily, and she just sits there daintily and lets the kids clumsily pet them and pull on her ears or tail by mistake.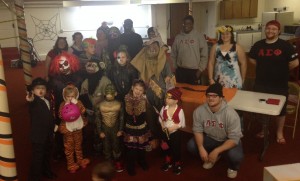 All in all, it's a good thing. It's a community thing. It's a nice diversion for both kids and adults. And I'd be lying if I didn't tell you all that I give them lots of candy (the good shit- chocolate bars and Reese cups and the stuff they want, not apples or popcorn balls or other stuff) because I want to be one of the "good candy" houses so they keep coming back. Lots of retirees who make in a year what this bitch above probably makes in a week spend their meager savings to hand out candy because, well, that's what you do on Halloween.
No one worries about where the kids are from or whether or not you're giving candy to the poors or whether it's a charity you didn't sign up for, because THEY ARE FUCKING KIDS.
You suck as a person. You may have made it financially, but you have failed in every other aspect of life. If you were a guy, I'd kick you in the junk, but I probably don't need to. Your pathetic existence is probably miserable enough. I'll probably never think about you again, but you are trapped with yourself until death. Sorry about that.
Not really. Asshole.
FWIW, Prudence's response was much more measured.