Some of y'all give me crap about living in a backward hellhole like Florida. Well, were you able to pluck a Cherokee Purple tomato off your vine last night and have it for dinner with a little salt, pepper and mayo on multigrain bread?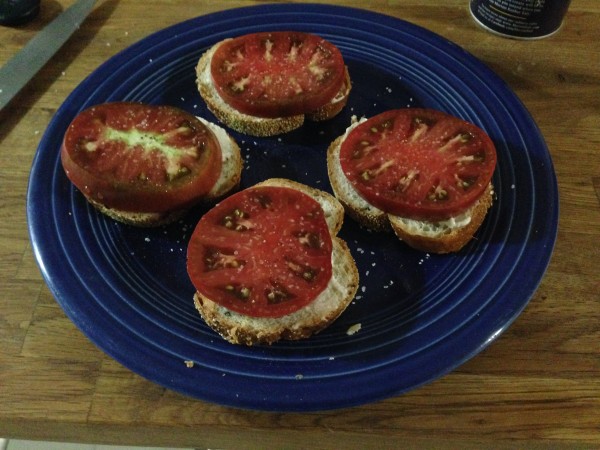 I thought not.
But seriously, I live here because I was born here, as were my father and grandfather and his father, and my family and friends are here. Plus, the mister, an Upstate New Yorker, couldn't be dragged out of Florida, not even by the Budweiser Clydesdales.
He joined the Air Force right out of high school, and his hitch included stints in Mississippi and a tour of Europe, where he provided background cocktail party music at fancy NATO shindigs as a pianist in the Air Force band.
He didn't join the Air Force to play music. He'd hoped to learn about electronics or something practical. But someone heard him at the keyboard in the rec hall and drafted him into the band.
When his tour was up and the Air Force deposited him back in Buffalo in the dead of winter, he said to himself, "What was that Air Force base with all the palm trees? I'm going back there." And he did.
Otherwise, I'd be gone like a shot to somewhere saner. Canada seems much less crazy, and during the peak madness of the Bush years, we did consider it. But we knew in our hearts we wouldn't be able to stand the weather.
Why is it that the cold countries seem to be the sanest ones? Does the seasonal indoor confinement inspire ruminations on good government? But many of the northernmost US states are bugshit crazy too. It must be the guns and the white supremacy.
Others pointed out yesterday the difference in how the Canadian and American media handled breaking news of the shootings at Canada's Parliament. It now looks like the shooter was an ISIS-inspired jihadi wannabe like the other Canadian-born convert who ran over a pair of soldiers earlier in the week.
Also this week, a trio of American girls were nabbed en route to join ISIS boyfriends in Syria, whom they'd met on social media. These kids today, with their hyper-modest clothing, murders, beheadings and forbidding of music! I don't know what the world's coming to.
It's tempting to see a larger trend at work here, and Fox News hosts, the future-Reverend Erickson and other dishonest media yappers are running with that theory because they're hateful pustules on the butt of humanity and/or need boogeymen under the bed for ratings.
But maybe it's just that people are weird and inexplicable. Serial killers inspire scads of marriage proposals and online fan clubs. People are strange.
Individually, that's a fact. But we know what crazy on a massive scale looks like and how dangerous it can be. We saw it in the US after 9/11, and history is laden with even more horrifying examples. The trick is to spot the tipping point, and to try to stop it if we can.
It's also helpful to remember that even genocidal monsters build movements on grievances that contain a kernel of truth. The Nazis were psychopaths, but they probably wouldn't have been able to persuade an entire country to join their mad scheme without the Treaty of Versailles (or at least German perceptions of its unfairness, depending on which historian you believe).
If you buy into the theory pimped by the future-Reverend Eponymous Eponymouson and label ISIS and jihad under any flag as the New Nazis (as opposed to Neo-Nazis, who are mostly hate-filled Christians), perhaps you can identify their Treaty of Versailles, which seems to be Western occupation of Muslim countries and historical influence over corrupt Middle East governments.
Would an acknowledgement of that injustice, a complete withdrawal of forces and cessation of political meddling and courtesy bombing short-circuit the proliferation of crazies? We'll never know because it's not going to happen: It would be Giving In to Terrorists. But it's an interesting thought experiment.