I've not bothered with Andrew Sullivan for a long time. His schtick — the reasonable man, "of no clique or party"–  just doesn't work for me.  I've seen too much of his thumb on the scale in his sweet reason, for one thing, and for another, the real value he had as an aggregator of random interesting stuff around the internet has been outpaced by smarter, more focused and much more disciplined thinkers I follow with much more pleasure.
So it's been months at least since I've wandered over to the Dish, until today, when I recklessly followed a link in a tweet that suggested that Sully had found — well, an interesting line to take on #GamerGate.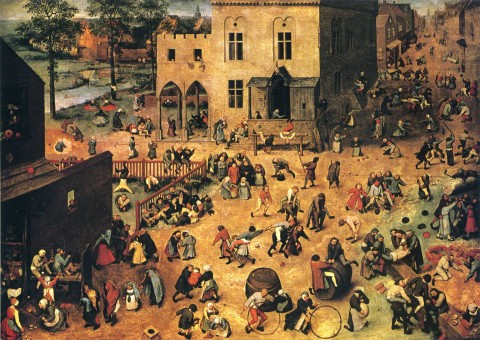 Nah, I thought.  If nothing else, Sullivan's solipsism would weigh in, and recall in the stigmatization and real violence wrought against gay men who dared be present in a homophobic majority culture some kinship with the women under attack by the stalwart defenders of purity in gaming.
But, of course, I forgot that there is ample reason we list Dr. Sullivan among the blogs we monitor (not much) and mock as needed.
That would be because if there's one thing we can rely on, it is that while Sully will always succumb to the urge to reduce any moral circumstance to a "good for Sullivan" — or not — calculus, his contrarian urge and his greater love for cleverness than rigor would lead him astray.
And so it has.
The TL:DR version of Sullivan's attempt to balance the rights and wrongs of GamerGate is that having weighed the evidence, Sully concludes that though it's a bad thing to threaten women who speak out about gaming culture with violence, both sides do it, and the GamerGate folks have suffered longer.  Really.  I'm not making that up.  Here's his conclusion:
Look: whatever case the gamergate peeps have, they have botched it with their tactics. Those tactics have been repellent in every sense of the word. But bullying has occurred on both sides, and only one side was bullied before.
So it's just "tactics" that are at fault.  Those pesky choices of action.
The suggestion that anonymous harassment on the 'net combined with plausible threats of physical harm is somehow dangerous and (literally) reactionary becomes, to Sullivan:
…pure vitriol, resting on an unspoken, hard left view of culture that is more disturbing because it presents itself as snark and analysis, rather than tired, easy agit-prop.
So much assumption not in evidence there, of course. ("Tired, easy  agit-prop!" It's what's for dinner!)
But worse — much worse — is Sullivan's pure, unadulterated inability to take seriously the real danger and constant pressure experienced by women in any form of public life.  Who is the victim here?  Sullivan leaps right to it.  The "tone" of the condemnation f harassment and threats
smacked of bullying and dismissal. When you're telling people they don't even deserve to be in a debate, and associate them with segregationists and every other entity good liberals have been taught to despise, "dismissive" is the least of it.
Uhhhh — so it's only that obviously ridiculous person, a "good liberal" who would find despicable either segregationists or anonymous claquesters harassing women on the internet, trying to damage their making a living, hoping to evoke suicides and all the rest.
Good to know.
Ultimately, it's all about Sullivan, and his own sense of self, historically and now.  In GamerGaters he sees his sembables, his frères:
Yes, I wouldn't trade our freedom for the closeted, marginalized past; at the same time, it's impossible not to feel some regret at the close-knit, marginalized, very distinctive solidarity gays have lost as a group, and some affection for a world, built defiantly to defend itself against outsiders, that is dissipating before our eyes and on our apps.

…many gamers were the bullied in high school; this was their safe space; it was a place they could call home. They now feel it slipping away, and it has unhinged some and disconcerted many, as a lot of mainstream culture has heaped scorn and ridicule on them at the same time. And I'm sorry, but I feel some sympathy here.
The reason I gave up on Sullivan — the one all the other irritations finally boiled down to — is found here.  If he feels something strongly enough he stops thinking.  He just grinds to a halt.  I don't really know what to say beyond that, except to note that I've yet to hear of the denizens of any leather bar trying to drive straight men to suicide for the vicious act of appropriation of wearing chaps.  The nerve!
Enough.  Sully isn't worth the electrons.  And it's an ill-wind and all that.  I'm well reminded that my missing The Dish adds up to missing nothing.
Image: Pieter Brueghel the Elder, Children's Games, 1560