In case you have not heard, we now have a mandatory quarantine in NY/NJ:
On Thursday night, Gov. Andrew M. Cuomo sat beside Mayor Bill de Blasio at Bellevue Hospital Center as they offered soothing words to worried New Yorkers: New York City's first case of Ebola, they said, was no reason for panic.

Less than 19 hours later, Mr. Cuomo, a Democrat, joined the Republican governor of New Jersey, Chris Christie, and struck a starkly different tone. The governors announced Friday that medical personnel returning to New York after treating Ebola patients in West Africa would be automatically subject to a 21-day quarantine.

The risk, Mr. Cuomo said, was grave. Offering an ominous hypothetical, he raised the precise situation that the mayor and the city's health commissioner had tried to play down the night before: the danger of Ebola spreading through the subway system.

"In a region like this," Mr. Cuomo said, "you go out one, two or three times, you ride the subway, you ride a bus, you could affect hundreds and hundreds of people."
Only if you're exchanging bodily fluids, but that ship has sailed and we are well beyond that, so whatever.
I don't know if you've been following the multiple Ebola threads here, but if you haven't, don't worry, they were typical threads about contentious issues. They had people talking past each other, willful misrepresentation of each other's point, internet experts, profanity, hurt feelings, talking past each other, a few people remaining on the threads until the very end (me included) because someone is wrong on the internet, apologies, everyone goes to bed, and then everyone has their coffee and starts back in on each other the next day. All in all, fairly typical.
The comments broke down into tribes (even though on most of the larger points we all agreed with each other) that included those who were afraid of the public hysteria and the idiocy and craven political bullshit that would soon follow because this is idiot nation during an election cycle with a hysterical media (my side), those who thought thought you should just let the science and facts rule the day and that if they follow procedures laid out there will be no more infections (the experts who actually work in the medical field), those who feared this would have a chilling effect on volunteers going to stop the crisis where the real problem lies, and those who were afraid of shunning of patients and medical workers, and some other subsets. I'm hear to declare a truce. We were all right. Congratulations.
1. Craven politicians- CHECK:
Within the city, an unexpected policy shift by Mr. Cuomo on Friday appeared to open up a public divide between the governor and the administration of Mr. de Blasio, a fellow Democrat. The city's health commissioner, Dr. Mary T. Bassett, was not informed in advance of the Cuomo-Christie mandatory quarantine order and was "furious," a senior city official who spoke to her said.

A spokeswoman for Mr. Cuomo, Melissa DeRosa, said city officials were not consulted about the quarantine policy because it pertained to airports that are run by the Port Authority of New York and New Jersey.

Mr. Cuomo's shift came just 11 days before he will be on the ballot seeking a second term, and on a day when his long-shot Republican challenger, Rob Astorino, seized on the city's Ebola case to assail the governor for not closing the New York airports to travelers from affected West African nations.

Mr. Astorino, the Westchester County executive, said Mr. Cuomo, along with President Obama, was "playing Russian roulette in the nation's most clustered population center."
They aren't alone:
Speaking to conservative talk radio host Laura Ingraham, Paul questioned whether the Obama administration should carry out its plan to send 3,000 troops to Ebola hot zones in Africa.

"You also have to be concerned about 3,000 soldiers getting back on a ship. Where is disease most transmittable? When you're in a very close confines on a ship, we all know about cruises and how they get these diarrhea viruses that are transmitted very easily," he said. "Can you imagine if a whole ship full of our soldiers catch Ebola?"
And Cruz and his staff had to get in on it:
"Senior Advisor & Dep. Chief @SenTedCruz. Fmr. Director of Coalitions for @HouseGOP" pic.twitter.com/j6RpxYW08k

— Adam Weinstein (@AdamWeinstein) October 24, 2014
As CNN's Candy Crowley furiously argued the Obama administration's case in the Ebola outbreak, Texas senator Ted Cruz dismissed the expert advice coming from supporters of the federal response to the crisis.

"The doctors who are saying this are working for the administration and repeating the administration's talking points," Cruz said on CNN's State of the Union Sunday. "And their arguments don't make sense."

Speaking to conservative talk radio host Laura Ingraham, Paul questioned whether the Obama administration should carry out its plan to send 3,000 troops to Ebola hot zones in Africa.

"You also have to be concerned about 3,000 soldiers getting back on a ship. Where is disease most transmittable? When you're in a very close confines on a ship, we all know about cruises and how they get these diarrhea viruses that are transmitted very easily," he said. "Can you imagine if a whole ship full of our soldiers catch Ebola?"
2. Public hysteria- HELLS YEAH!: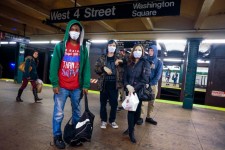 An extraordinary number of Bellevue Hospital staffers called in sick on Friday rather than treat the city's first Ebola patient — and those who showed up were terrified to enter his isolation chamber, sources told The Post.

"The nurses on the floor are miserable with a 'why me?' attitude, scared to death and overworked because all their co-workers called out sick," one source said.

"One nurse even went as far as to pretend she was having a stroke to get out of working there, but once they cleared her in the ER they sent her back up," the source added.
And that's just the people who should know better. There is lots more:
About 200 airline cabin cleaners walked off their jobs at New York's LaGuardia airport on Thursday, to protest what they say are working conditions that do not protect against potential Ebola contraction.

"When I do bathroom, I come in contact with tampons which I have to grab with my hand, with a glove that's so cheap that it breaks easily. I come in contact with feces, a lot of feces and vomit. And we have to clean those bathrooms spotless because they audit those planes,"Wendy Arellano, one of the workers, told the Guardian.

"They expect us, that if a little bit of feces stays on the toilet, that we remove it with our hands because [if not] they will say that bathroom is dirty. And I refuse to do it because I think it's disgusting and I don't have the appropriate attire, and because I don't know what that person has.
First off, the tampon bit was TMI. I'd walk off the job if I had to do that with my hand, and ebola wouldn't even enter into the mix. And I was a bouncer and had to clean the women's bathroom on Saturday nights and had to burn shit in 50 gallon drums while in the Army. Fuck that. Then there is this:
For Anna Younker, owning a bridal shop means serving customers who are planning one of the happiest days of their lives. It's a job she loves.

"She's the salt of the earth," said her husband, Donald.

But since October 16, the couple's lives have been turned upside down. Ever since news broke that nurse Amber Vinson had visited their Ohio store just before being diagnosed with Ebola, the fallout has been unrelenting.

The couple's Coming Attractions Bridal Shop, a business they cultivated for nearly 25 years, is dark, they say, mainly thanks to Ebola hysteria.

"It's a little hard to believe that something like Ebola from halfway around the world can affect our lives right here in Akron," said Donald Younker. "The world is clearly smaller than we think.
And on and on and on. You can't blame some of them, when health officials are simultaneously telling people there is nothing to fear while having everyone run around the city tracking down people who are in no danger whatsoever while cops are dumping protective gear into street corner rubbish bins.
3.) Science and Facts Rule the day- ROGER!
I don't even need to provide any links, and really can't, because there isn't anything to link. Pham, Vinson, and Spencer have infected precisely no one. Not one person. They themselves were infected from exposure to people at their most contagious stages. Pham and Vinson were exposed to Duncan at Dallas Presbyterian because there were no protocols on treatment, inadequate protective gear, and just generally a shit show. Spencer was infected overseas, and while wearing protective gear, was clearly in the middle of the storm and got infected, which isn't altogether surprising.
4.) Chilling effect on volunteers- YOU BETCHA!
Eight police cars escorted me to the University Hospital in Newark. Sirens blared, lights flashed. Again, I wondered what I had done wrong.

I had spent a month watching children die, alone. I had witnessed human tragedy unfold before my eyes. I had tried to help when much of the world has looked on and done nothing.

At the hospital, I was escorted to a tent that sat outside of the building. The infectious disease and emergency department doctors took my temperature and other vitals and looked puzzled. "Your temperature is 98.6," they said. "You don't have a fever but we were told you had a fever."

After my temperature was recorded as 98.6 on the oral thermometer, the doctor decided to see what the forehead scanner records. It read 101. The doctor felts my neck and looked at the temperature again. "There's no way you have a fever," he said. "Your face is just flushed."

My blood was taken and tested for Ebola. It came back negative.

I sat alone in the isolation tent and thought of many colleagues who will return home to America and face the same ordeal. Will they be made to feel like criminals and prisoners?

I recalled my last night at the Ebola management center in Sierra Leone. I was called in at midnight because a 10-year-old girl was having seizures. I coaxed crushed tablets of Tylenol and an anti-seizure medicine into her mouth as her body jolted in the bed.

It was the hardest night of my life. I watched a young girl die in a tent, away from her family.

With few resources and no treatment for Ebola, we tried to offer our patients dignity and humanity in the face of their immense suffering.

The epidemic continues to ravage West Africa. Recently, the World Health Organization announced that as many as 15,000 people have died from Ebola. We need more health care workers to help fight the epidemic in West Africa. The U.S. must treat returning health care workers with dignity and humanity.
4. Shunning? WE GOT YOUR SHUNNING RIGHT HERE!
And then this:
Children whose parents work with Ebola patients are being disinvited from birthday parties, according to one hospital.

Dr. Mark Rupp, an infectious disease specialist at the Nebraska Medical Center, spoke at the hospital in an attempt to calm fears surrounding the Ebola virus. During his remarks he mentioned that a child belonging to a staff member in the biocontainment unit, where a freelance cameraman is being treated for Ebola, was invited to a birthday party. Later the child was disinvited once the host found out where the child's parent worked.

Rupp said employees don't plan on speaking to the media, but earlier on Monday the hospital tweeted about their experiences.

"Children of parents who are working in our Biocontainment Unit are being shunned. This isn't helpful or appropriate," read one tweet.
***
I still maintain that had all the people at Dallas Presbyterian been quarantined or, at the very least, not gotten on planes, this nonsense wouldn't have reached this level. The health officials knew they were exposed while unprotected, and then clearly did not know what to tell Vinson when she called to ask them whether she should fly or not (and I still think she shouldn't have, not for medical reasons, but because of the chaos that would follow), but I will admit I shouldn't have called her an asshole, because I wasn't ponying up to refund her plane ticket or pick up her groceries. Regardless, if we had nipped this then and there with a few people inconvenienced, it would have given the country time to calm down and hopefully cooler heads would have prevailed. Spencer and his bowling pins were just the last straw, and of course this whole god damned thing had to happen during an election year when the stupid is already dialed up to eleven.
At any rate, Jonathan Cohn sums up where we are now:
Are they right? And is a quarantine worthwhile? It's a complicated question. The Centers for Disease Control and most public health experts that I've consulted do not recommend taking such steps because, they say, they are not medically necessary. Ebola patients don't become contagious until they have real symptoms, such as fever or vomiting. It's enough, these experts say, if people at risk of Ebola "self-monitor"—i.e., watch out for symptoms and take their temperatures twice a day, reporting in any problems to public health authorities. That's precisely what Spencer did and, according to every expert I've consulted or seen quoted, it's highly unlikely he gave the disease to anybody. Spencer is now in a special isolation facility at Bellevue Hospital, getting treatment.

Of course, the argument for quarantine may be less about medicine than it is about mass psychology. Ebola is a scary disease and quarantine's main, perfectly worthy goal may simply be to calm the public. But in public health, as in medicine, the first principle is Do No Harm. Medical experts and health officials worry, for example, that quarantine might discourage aid workers from traveling to West Africa, at a time when the region desperately needs more personnel to fight the epidemic.

It's also an open question whether the quarantine reduces anxiety or intensifies it. That's particularly true in this case, because Cuomo's statements on Friday, at least as relayed by the press, left the impression that a non-symptomatic Ebola patient could spread the disease on the subway—the very notion that public health officials had spent the previous 24 hours explaining wasn't true.

That's one reason that officials from the Obama Administration, the CDC and the New York City Department of Public Health seemed not at all happy about Friday's announcement. The other is that, based on what I'm reading in outlets like the Times and hearing from insiders, they weren't so much consulted about the decision as informed of it at the last minute, as a fait accompli. Leaders in all three of those places pride themselves on putting science before politics. You don't have to be a cynic to think that Cuomo, who is up for reelection, and Christie don't feel the same compulsion.

None of this means that Christie and Cuomo are clearly wrong on the merits. Truth is, this is one of those questions about which reasonable people can disagree or have mixed feelings. (Here, for example, is a prominent infectious disease specialist arguing for an even wider quarantine.) But it's probably safe to assume that the two governors weren't simply thinking about public health when they made their decisions. They were thinking about public perceptions—for the best reasons, the worst reasons, or maybe some of both.
As we all know (and many of you stated as the reason I was wrong and we shouldn't have quarantined the Texas health care workers who handled Duncan), there is very little chance going back now. We can't even dial back the police state or engage in meaningful prison reform despite crime rates being historically low. There is no chance that we will roll back what has been done with the mandatory quarantine in NY/NU and even less than no chance that any politician will have the courage to even try. And we'll get no respite from the media until a plane disappears or a white girl goes missing or they get a chance to call the people of Ferguson thugs and rioters again. I guess we can always pin our hopes on a Benghazi outbreak.
The only question that remains is how much more clusterfuck nation cam mess this up and how much self-inflicted damage we will cause. I'm going to go with "LOTS" for 2000.