That would be, of course, the fifth game of the World Series.  So, in advance of the stirring triumph by the Sons of Willie Mays,* here's a nice bit of baseball reporting and writing, one that captures something of the difference of the game fans watch and that which the players play.
Even a Boston-fan-in-adulthood like me knows the lore.  Ted Williams announced on September 26, 1960 that he was going to retire at the end of the season, two days later.  That would be it for  a major league career that had begun in 1939. (For those who are counting, that's a career that spans four decades, and includes hiatuses for active duty in two wars.)  That season, aged 41, he wasn't too bad:  a .316 batting average, an OPS of 1.096, 29 home runs in 113 games.  The numbers are a little down from his career averages (sic!), but you'd have to say that the Splendid Splinter could still play.
But he had decided he was done — and who could blame him — and according to every report I've ever read, when Williams set his mind, that was it.  So September 28, when the Baltimore Orioles faced the Red Sox at Fenway Park in the last home game of the 1960 season, the crowd knew it would be watching the last of the greatest ball player ever to wear the B on his cap.**
What happened that day is pure Boston sports legend.
John Updike wrote what many think is a classic of baseball writing about that game.  For me, it doesn't re-read well; too much of what Steinbeck called hooptedoodle for my taste.  The one truly fascinating fact Updike records is the attendance. On the last occasion to see Ted Williams, all of 10,454 people showed up at a park that could seat over 30,000.  Admittedly, the 1960 Boston team sucked, but still…
But most of Updike's piece is elegant hagiography, utterly focused on Williams…which is fine; Ted was the reason he was there, and Ted gratified the genteel and rabid fan in Updike by delivering the kind of narrative that wouldn't have been believed had Updike snuck it into a novel.  It was a dank, cold day, a lousy one for hitting, and Williams didn't do much for a while:  a walk and a run scored in the first, two fly ball outs in the third and the fifth (that second one had a chance, but fluttered down at the warning track).  He came up for what was obviously the last time in the eighth and…well, here's Updike:
Fisher, after his unsettling wait, was wide with the first pitch. He put the second one over, and Williams swung mightily and missed. The crowd grunted, seeing that classic swing, so long and smooth and quick, exposed, naked in its failure. Fisher threw the third time, Williams swung again, and there it was. The ball climbed on a diagonal line into the vast volume of air over center field. From my angle, behind third base, the ball seemed less an object in flight than the tip of a towering, motionless construct, like the Eiffel Tower or the Tappan Zee Bridge. It was in the books while it was still in the sky. Brandt ran back to the deepest corner of the outfield grass; the ball descended beyond his reach and struck in the crotch where the bullpen met the wall, bounced chunkily, and, as far as I could see, vanished.
Yup.  As every baseball fan knows, Williams went out with the stuff of dreams, a home run in his last at bat in the only home stadium he had ever known in a baseball life as long (and now as long ago) as Methuselah's.  As Updike notes, he was even able to allow himself to skip the final series of the 1960 season, away games at Yankee Stadium.  A home run, a standing O, no curtain call, and out.  That's the story.  Full stop.
Except…s another guy had something to do with the moment, the antagonist to Williams' hero's role.  That would be Jack Fisher, the pitcher who served up the fateful fastball.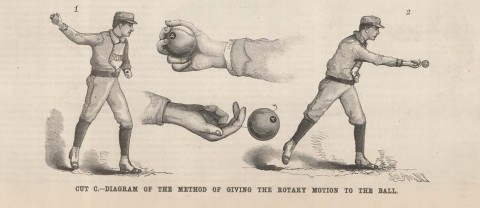 There's Updike's tale of heroic inevitability (it's always necessary after the fact), the literary gloss on that routine confrontation between pitcher and batter.  And then there's the way the guys standing 60 feet 6 inches apart see it.  Which is why I found delightful this brief report from the mouth of Mr. Fisher himself, written up by Elon Green  for Updike's venue, The New Yorker, on May 1 of this year.  In it, we learn that Fisher didn't see TED WILLIAMS at the plate.  He saw a guy he knew how to pitch to:
One of the sportswriters looked it up, and he said that Williams lifetime was two for thirteen off of me. So I did all right against him.
Here's how Fisher remembers the crucial at-bat itself:
As you probably heard, it was a very cold, dank day type thing. Williams earlier had hit a ball off of me to right field—a fly ball that our right fielder, Al Pilarcik, caught back close to the warning track. So Williams had hit the ball pretty well that time, and I thought, Uh oh, but it was an out. So, it's the seventh inning, and he comes up, and Jackie Jensen was their next hitter, right-hand hitter, and with the short left-field wall there, I thought, There's no way I'm gonna pitch around Williams.

I think the first pitch was a ball. The next pitch—he swung and missed—was another fastball. The next pitch I just went to another fastball and he hit it out. Made the score four to three.

I mean, all I was trying to do was win the ballgame. The fact that he hit the home run wasn't that big to me because I'd actually had pretty good success against him.
Love it.
Talk about whatever.
*I hope I may be forgiven my partisanship.  My first pro sports experience was surviving Candlestick as a nine year old, or so.  Saw Mays, McCovey, Marichal, Cepeda, Bonds the elder, even Gaylord Perry.  I switched allegiance to the A's after a bit — East Bay kid and all that — but I earned (though never grabbed) my Croix de Candlestick, and so there you have it.  Go Giants!
**Was Babe Ruth a better ball player? Probably.  But, of course, that greatness happened mostly in a Yankees uniform.  Goddammit.
Image: Artist unknown, Diagram of the Method of Giving the Rotary Motion to the Ball, from Scientific American, The Art of Pitching in Baseball, July 31, 1886, page 71.