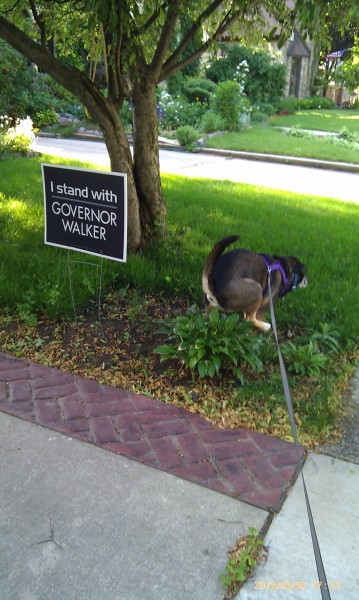 Frequent commenter VidaLoca weighs in (and his friend's dog Charlie provides additional editorial comment):
I've been thinking for a while of trying to do a guest post for BJ on the Wisconsin Governor's race. I put the idea to John, who graciously accepted, so here goes. My own background/expertise is very simple: I live in Milwaukee County and I've been a political activist here for a number of years; I have some familiarity with what's going on locally with the movement to resist Scott Walker (though somewhat less familiarity with the situation statewide). I hope you'll find the following to be interesting and I'll be here to respond to your comments. I realize that some of what I have to say may be controversial so I've tried to add enough footnotes to at least give the impression that I'm not making it all up as I go, without creating a post that will take (too) many hours to read.

What follows was inspired in part by a promise I made to Kay to write "something" on the Governor's race here, and also in part by John's "Early Voting" post of 10/23 that sounded very pessimistic about the Democratic organization in WVA. I gathered that things in WVA are — to put it mildly — grim. I have to say, everyone I run into in Milwaukee — from the activists to the people I meet knocking on doors — is totally stoked. We HAVE to vote, we HAVE to do this. At the same time, as in WVA, the existing models aren't doing it for us: so with our backs against the wall we're trying to come up with new models.

Herewith, the situation in Wisconsin, emphasis on Milwaukee, one week out from the election:

1. The Candidates:
A. Scott Walker — Scott Walker will hardly need extensive introduction to BJ readers, nevertheless I urge you to take a look at The Unelectable Whiteness of Scott Walker from the 6/15/2014 issue of TNR. While I disagree with the title — he and his whiteness are hardly "unelectable" — the article is correct in understanding (albeit, implicitly) that what Walker and the Republicans have done is to take class warfare to a new and much more open level, and that he's been able to use white supremacy to leverage his success in doing so[1]. Those of you who have the time and the interest should also check out the links therein to the series of Milwaukee Journal-Sentinel articles on the state of political play in SE Wisconsin. Those articles make a mistake in conflating the Wisconsin Democratic Party with external (ie, out-of-state) campaign organizations such as OFA, with the result that they take the Wis. DP more seriously as an organizational force than its recent history warrants. Nevertheless they help to shed a lot of light on the political situation in the state. It is bitter and it is partisan and when you read that it is more bitter and more partisan than anywhere else in the country that's a credible statement.

It's a special place — (aren't they all?) but particularly if you feel compelled on or after Nov. 5 to say something like "Well Wisconsin voters elected Scott Walker not once but three times in four years so they deserve what they get, yadda-yadda", you owe it to your credibility to try to understand some of the details laid out there first.

B. Mary Burke — If you didn't follow the links in the "Scott Walker" section above, at least grasp the point that since Feb. 2011, Walker's inauguration, the demonstrations in Madison, etc., politics here has been all class warfare, all the time. Then read Likely Scott Walker foe reported earning at least $6.8 million since 2008. After that, read Some Democrats dismayed with Mary Burke after Trek ruling. The point: as parties, the WI Republicans are extraordinarily good at the class warfare game. The WI Democrats are extraordinarily not. And Mary Burke has real problems parachuting from Madison into Milwaukee and appealing to poor and working-class voters here who feel justifiably abused and disenfranchised by the leaders of a political system that too often and for too long has failed to represent them — and here, those leaders are all Democrats[2]. Simply put, seen through the lens of class politics she looks a lot like "one of them" and not much like "one of us".

2. The Campaign:
One might think that after four years of Scott Walker, anyone with respiration and a pulse would be beating him like a rented mule. For reasons that I hope are becoming more clear if you've followed along this far, one would be wrong. But the good news is that since spring, Walker and Burke have been polling neck-and-neck and that should not be underestimated in its effect on keeping our morale up after we watched the way Walker handled Tom Barrett in his previous two campaigns. Clearly the Democrats have learned something from those experiences — they aren't running Barrett for a third time! — but overall they're running the same campaign again only with a new candidate. Still being tied is better than being behind and we'll take hope where we can get it.

3. Strategy and tactics:
In as highly polarized an environment as this one is, it's no secret that winning the election will come down to GOTV. With only 5-10% of the electorate "undecided" (and that's your 5-10% that couldn't find their ass with both hands and a flashlight), persuasion will not play much of a role — though that's not to say that a boatload of money won't be spent on TV ads. We learned the hard way in the 2012 recall election that Walker's 47% will crawl over broken glass to vote for him. We expect Burke's support, for the reasons that I outlined above, to be softer.

The Democratic Party people are trying to use a "turn out the base" strategy. They have this category that they call "strong Dems" that they feel they can mobilize and get to the polls; if they can get enough of these people out they think they'll win. This will work for them in some places in Milwaukee County — liberal pockets in the well-to-do northshore suburbs and the eastern part of Wauwatosa are two that I'm somewhat familiar with and there are other areas here as well where it will work up to a point. Certainly it will work on the west side of Madison. Problem is, there aren't enough voters in these pockets: the best the "turn out the base for Burke" strategy can do is about 47% of the registered/likely voters averaged over the state. That's effectively a ceiling: Burke is not going to peel many Walker supporters away no matter what she says or how hard she tries. So what the Democrats have is not a "plan to win" in this election — in the best case it's a "plan to tie" or a "plan to stop the bleeding" relative to Waukesha/Ozaukee/Washington counties to the north and west, and it won't even do that if Walker can drive down Burke's numbers and/or demoralize her supporters.

Another thing we learned in the recall election is that we will not get anywhere near a winning margin of people out to vote on the "anyone but Walker" message alone: you can't beat something with nothing. On the other hand, a straight-up "vote for Burke" message comes with the limitations I've described above.

Our solution is to expand the pool of likely Burke voters, getting around the limitations that Burke brings to the table by talking about something other than Burke. Since early spring we've succeeded in getting referenda on the ballots in about 10 counties and several municipalities around the state, calling for an increase in the minimum wage to $10.10/hour. 10 counties out of the 72 in the state sounds like small potatoes, but in fact this adds up to about 40% of the voting population. We're doing GOTV, targeted at inconsistent, unmotivated, "dropoff" voters — the kind that somehow only vote in Presidential elections (the kind that only vote when they see a compelling reason to do so and believe that the act of voting will actually make a difference, the kind that don't get polled because they aren't "likely voters" or even "registered voters") — and urging them to go vote for the increased minimum wage. And oh yeah, vote for Burke too while they're at it. This is more than just a passive strategy because under an interesting technicality of Wisconsin law, the legislature does not need to act to raise the minimum wage. The Governor can simply raise it by administrative fiat. So what we're doing is jamming Walker, demanding that he raise the min. wage and forcing him to go public with his refusal. We're also jamming Burke, though more gently: she'd be a fool if she didn't line up on our side, and indeed she has done so — but if she wins and does not follow through she will be facing problems down the road.

In addition to this basic meat-and-potatoes stuff we've got the side dishes (though it should be said, in Milwaukee only — but that's the one place where it matters most): free early-voting and election-day rides to the polls up and running, voter registration drive complete, poll watching/vote integrity ready to go. To be fair I don't want to over-hype any of this: we began putting all of this machinery together in the early spring of 2012 so it's been in place for only 2-1/2 years. Everyone knows we lost the election that really mattered in June of 2012 and we've lost others that we cared about since then too. It's not perfect by any means but it's the best at hand and it's all ours. It's very much of a work in progress; a lot is done by volunteers who can up and volunteer for something else at the drop of a hat; there are a lot of moving parts and every time you have moving parts you have friction. We don't all agree and we don't all even like each other yet somehow we've been able to persevere thus far — and every time we do this we get better at it. We're building the tools, we're putting the pieces in place.

What we're about is we're stealing the Republican tactic of using wedge issues to drive up the vote. We're trying to bring people who don't even appear in the polling statistics out to the polls. We're trying to electoralize class warfare. Why not? — it shouldn't be just the Republicans that get to do that! Along the way, we're trying to build permanent organizational capacity to carry this work on into other issues after the election is over because the WI Democrats' appetite for class warfare — to the extent they ever had one — vanished a long time ago.

4. Takeaways:

Those of you who happen to live in the other 49 states may be wondering if this has any relevance to your situation. I can think of at least two ways in which it does:

A. Walker's core support — Walker has succeeded by putting together a united front of de-classsed and economically marginalized white workers, the nouveau-riche upwardly mobile strivers from the McMansions of Waukesa County, and the truly rich "natural" right-wing base of the Republican Party. We believe that over time this united front will prove to be unstable — you can only piss on peoples' legs while telling them it's raining so many times before they start to figure you out — but at the moment they're a legitimate mass right-wing social movement. They are organized, energized, fighting with their backs against the wall just like we are. We've learned the hard way that their GOTV machinery deserves the utmost respect. Why this is all true, and how it got this way, is a topic for another post although the TNR article noted above points to some reasons. However, if Walker wins it's reasonable to expect that this model will be taken up and duplicated elsewhere in the country. And even if they lose there's no way they are going to give up and walk away, they'll be back for more again and again.

The cliche is that the states are the laboratories of democracy — but it's just as true that they're the laboratories of fascism as well. If you agree that fascism is the brand with the big growth potential in the coming years then this becomes a cause for concern. Don't underestimate these people: in fact, you should try to learn from the Republicans in Wisconsin because the Republicans in your state will be doing just exactly that. The Democrats in your state? — well, you know better than I.

B. Don't mourn, organize: — On the other hand, we believe that if we win our model will have some legs too. The takeaway is this: electoral support field work is not rocket science. If you're not happy with the candidates you're offered, if you're not happy with the way their campaigns are organized, you can do something about it. You don't need to wait on the Democratic Party to get its shit together because if your state is like mine, that day may never come. You do need an analysis of your community/region/state that points you in the direction of the important issues around which to mobilize, you need at least one candidate that can speak to those issues, and you need a core of people who can put the wheels in motion. The rest is organizational details.

***

[1] In case you think I'm engaging in rhetorical excess by using phrases like "class warfare" and "white supremacy" I recommend you re-read the TNR article. Or keep in mind that in the 16 months from January 2011 to the end of the legislative session in May 2012 the Republicans successfully eviscerated collective bargaining for public employees, school funding, womens' health, low-income assistance, environmental regulations and domestic partner benefits. They passed legislation allowing concealed-carry of firearms and a "stand your ground" rule relaxing regulations on their use. They redrew the legislative districts for the next 10 years in an attempt to insure their continued dominance of state politics and the continuation of their policies. They passed one of the most restrictive voter ID laws in the country. And, they directly rewarded the investments of their patrons. On white supremacy, again see the TNR article or read Gov. Scott Walker wants drug testing for public aid recipients. Tax cuts, and drug testing for poor people: this isn't some "dog whistle" folks, this is an air-raid siren. Look at the date on that article: Sept. 14, 6 weeks ago: this is Walker consolidating and solidifying his base; he's locking in votes. I don't think "class warfare" and "white supremacy" are rhetorical excess at all, I think they're accurate descriptive terms and they should be used more often. [2]That's not to say that all Democrats are traitors because they aren't. There are actually quite a number Democrats here who we support (and though it may sound surprising given the skeptical tone of this article, Mary Burke is one of them). It is to say that a lot of the traitors are Democrats though, and it's a real problem for their brand.
Lot of good reads, and if any of you have a handle on your own local races and would like to send me similar posts, I'm sure everyone would appreciate them. VidaLoca will be around in the comments to answer any questions.