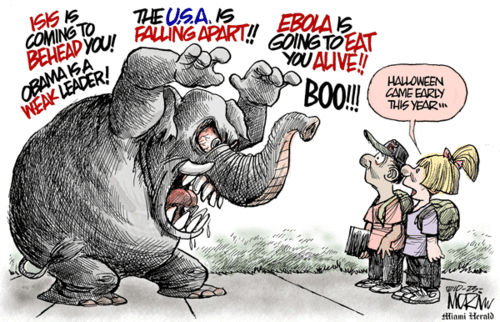 .
GOP tricks, scienterrific treat, per the NYTimes — "To Improve A Memory, Consider Chocolate":
In a small study in the journal Nature Neuroscience, healthy people, ages 50 to 69, who drank a mixture high in antioxidants called cocoa flavanols for three months performed better on a memory test than people who drank a low-flavanol mixture.

On average, the improvement of high-flavanol drinkers meant they performed like people two to three decades younger on the study's memory task, said Dr. Scott A. Small, a neurologist at Columbia University Medical Center and the study's senior author. They performed about 25 percent better than the low-flavanol group.

"An exciting result," said Craig Stark, a neurobiologist at the University of California, Irvine, who was not involved in the research. "It's an initial study, and I sort of view this as the opening salvo."

He added, "And look, it's chocolate. Who's going to complain about chocolate?"…
Well, I'm sure they'll find someone. Details at the link, with all the predictable cautions about small samples, large doses, the need for further studies, and the inadvisability of gorging on Halloween chocolate bars that have been processed to remove most of the vital flavanol epicatechin. But, hey — chocolate!
**********
Apart from hoping this won't just be the next resveratrol, what's on the agenda as we start another week?