Update:  I've just done something I've never done before:  edit a couple of comments.  I don't know if I'm old, or oversensitive, or too PC or whatever, but I can't take certain words anymore — at least not outside of settings and meanings where there is clearly no other that will express something that needs to be said.  So I've edited, gently the use of the word we often represent here as Ni-Clang!
So — now you know.  I do read every last comment on any post I write, sometimes very long after the event, but every one.  It's absolutely not my place to make any change in any of them — if you're pissing on the campfire too often, I'd consider a ban, but I've never actually levied one.  And I'm surely not going to set up as the language police.  But I guess I do have trigger words.  Don't try any word for "Jew" that starts with a "k"; don't use the N-word just for fun and so on.  I am genuinely sorry if you think this is arbitrary, harsh, or overly sensitive.  But not sorry enough to restore the words that bugged me to the thread.
Back to your regularly scheduled programming:
———————————————
Via TPM I came across this repulsive story:
Officials have confirmed that an offensive Halloween display at a Fort Campbell residence has been removed.

A ClarksvilleNow.com reader sent a photo of the display, which shows what appears to be a black family hanging from a tree in a yard on Litwin St.

The child in the display has a knife in its back and one of the figures holds a sign that is not legible in the photo.
Officials at the base got in touch with the resident, and, as reported,
[Public Affairs spokesperson Brendalyn] Carpenter said it was her understanding that the display was not intended to be offensive, but authorities deemed it could be interpreted as such.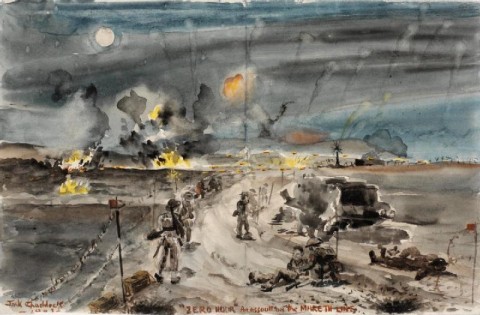 Pretty on-target deeming there, I'd say.
The display itself is ne plus ultra of the insult here — but that "not intended to be offensive" is in some ways the longer knife.  That someone could  say that is at once a display of enormous contempt for those who know what that little tableau actually means, and, if it were in any way a sincere expression of someone's regret, testimony to the "airborne toxic event" quality of 21st century racism.  How much awful stuff does one have to simply accept as the natural order of things to be unable to  see that putting up a lynching diorama in your front yard is the work of a thug, a vicious and actually threatening act.
Worst of all:  this is done in the context of Halloween, which means whoever did this was ok with a bunch of little kids — many of them (army base and all) African American — walking by.
But, of course, John Roberts with his co-conspirators have told us that race is no longer an issue in this country, and he is an honorable man. So are they all honorable men….
Image: Jack Chaddock,  Zero Hour- the Mareth Offensive, 1943. Cameron Highlanders, 1943.  I have to admit that I was at a loss as to how to illustrate this post.  What image captures without celebrating the wretchedness?  So I've opted for this:  how to be offensive intentionally.