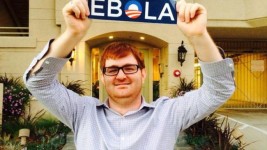 Remember when Michelle Malkin was nosing around Graeme Fost's house inspecting his countertops? Charles C. Johnson carries on the tradition of stalkerish behavior:
After a pitstop for an Italian dinner on Tuesday night, right-wing agitator Charles C. Johnson showed up at what he thought was the residence of his biggest online adversary — a man who just so happens to share his name — and snapped photos of himself standing outside the complex's gate holding conspiracy theory bumper stickers.

Johnson said he retrieved the address to the Pacific Palisades apartment online.

"At the world headquarters of Little Green Footballs…" Johnson tweeted, appending a hashtag to signify his latest obsession.

Little Green Footballs, of course, is the online home of blogger Charles Johnson. But the apartment shown in the tweet hasn't been his actual home for more than 10 years.

"Actually, when I first saw it I didn't recognize the place because I haven't lived there for so long," Johnson of Little Green Footballs told TPM on Wednesday. "I thought he was just making a joke at first and I looked at it again and realized that's the place I used to live."

The conservative Johnson, who's kicked up dust during the last several months in an attempt to put his stamp on seemingly every news cycle, told TPM in an email that the stunt was meant as a bit of humorous revenge.

"The lesser Charles Johnson encouraged his followers to stalk me for daring to report the name of the Ebola nurse, Nina Pham, 12 hours before the rest of the media," the founder of the fledgling GotNews.com said in the email. "He's kind of crazy and I've talked to law enforcement about what can be done about his sending stalkers my way. Showing up at his apartment complex door was intended as something of a joke. I knew he would go nuts on Twitter all night, which he promptly did."
These people are certifiable.