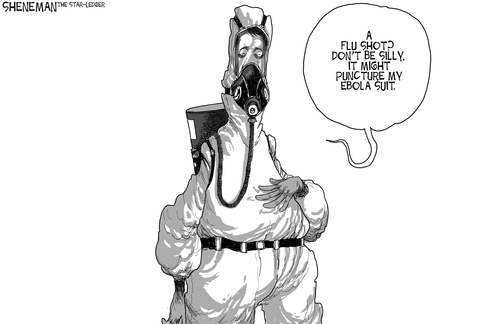 .
Props to the New Yorkers who understand how epidemic illness works:
Flu vaccinations are up 50 percent in New York City, according to the Health Department — though the city's flu chief said it's too soon to know whether the surge is the result of the vaccine being more widely available than ever before, or because of Ebola fears.

Mayor Bill de Blasio and other authorities have been saying a the flu shot is one of the best things people can do to fight Ebola — albeit indirectly. The vaccine does nothing to protect people from the deadly virus. But Dr. Jane Zucker, the city Health Department's flu chief, said more people getting flu shots and nasal mist means fewer sick people diverting the esources of hospital emergency rooms…
Not so much for Bobby Jindal's suffering state:
Louisiana has a message for many of the scientists and medical experts studying Ebola and aiding efforts to fight the deadly virus in West Africa — stay away.

The state sent a letter to members of the American Society of Tropical Medicine and Hygiene, which is holding its annual conference in New Orleans next week. If they've recently been to any of the West African countries where the virus has infected more than 13,000 people, they shouldn't attend the meeting…

Louisiana's decision was made to "address concerns regarding the possible importation of Ebola virus," the state officials said in the letter. The state has instituted a policy that prohibits people who have traveled to West Africa or cared for people with virus in the past 21 days from using public transportation or joining large groups.

The state said it can't effectively assess the risk of people who've been in the countries. "We see no utility in you traveling to New Orleans to simply be confined to your room," the officials said in the letter…
Meanwhile, per NYMag, nurse Kaci Hickox defies the alarmists:
Quarantine-defying Ebola nurse Kaci Hickox, now home in Maine after escaping Chris Christie's bluster in New Jersey, flaunted her freedom in the most Maine way possible this morning: by going on a bike ride. While health officials in the state are insisting she stay inside until November 10, when her 21-day incubation period ends, Hickox, who served with Doctors Without Borders in Sierra Leone but has twice tested negative for the virus and shown no symptoms, keeps pushing the boundaries.

Last night, "Hickox made her point when she stepped outside the home," the Associated Press reports. "After speaking to reporters, she shook a hand offered by one of the reporters."…
Per CNN [warning: autoplay video], there's at least one sensible judge in Maine:
A Maine judge on Friday ruled in favor of a nurse who defied a quarantine in a tense standoff with state authorities, saying local health officials failed to prove the need for a stricter order enforcing an Ebola quarantine.

District Court Chief Judge Charles LaVerdiere ordered nurse Kaci Hickox, who recently returned to the United States after treating Ebola patients in Sierra Leone, to submit to "direct active monitoring," coordinate travel with public health officials and immediately notify health authorities should symptoms appear…
I'm hoping Governors Christie (NJ) and LePage (Maine) get into a public shoving match at the next big GOP conclave. Preferably with Gov. Jindal trapped between them, for the lulz.