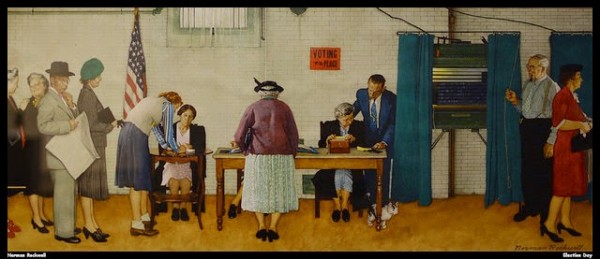 Valued commenter Shortstop had an interesting idea in an earlier thread:
Cole and other FPers, know what would be a fun topic for an election day thread (this day or another election day)? Descriptions of where people voted.

Years ago, the NYT (I think) did a photo essay of Americans voting and I was really struck by the range of environments in which people exercise their franchise. There were people voting in rural one-car garages, airplane hangars, hardware stores, all kinds of places besides the more usual schools and churches. It was quite moving seeing this basic, communal action being taken in so many disparate locales. I felt all e pluribus unum, though I know we aren't!

Today I voted in the lobby of a Chicago high-rise: ours. I am so in love with my new ability to go downstairs in my pajamas (I didn't, but I could have) and cast my vote, thus totally avoiding the aggressive electioneers just outside.
So what was your polling place like? Was it crowded?
The mister and I were among the first 20 or so to vote in our little town — we were outside the door when it opened at 7 AM. Our polling place is a small church, a satellite operation of a larger Southern Baptist megachurch.
The only time I darken the door of any church is when I visit this one to vote. Our fellow early-bird voters were all middle-aged or elderly white folks, not surprising given the demographics of the town.
Please feel free to share other election news or talk about whatever.