Serendipity works sometimes.  My friend David Dobbs publishes a near-daily newsletter of three or four fascinating essays or articles to read.  (You can sign up here.) Today he took me to a writer I've only occasionally glanced at in the past, Sadie Stein, (may have to change that)  for a piece that comes to a climax with a vision of a young, fictionalized Joyce Carol Oates, TA-ing her first class.  Trust me; it's worth a look. (It's over at the Paris Observer, itself a venue I chance upon more than seek out — might want to change that too.)
Contemplating the various joys of full-body immersion in student fiction was fun, enough so that I clicked through to Stein's archive, and there, just below the bon-bon of a post to which David had directed me, I came upon her entry for Tuesday.  Mostly (though not entirely) she hands the microphone over to William Carlos Williams, and a poem, which, thus acknowledged, I herewith steal:
Election Day

Warm sun, quiet air

an old man sits

in the doorway of
a broken house–

boards for windows
plaster falling

from between the stones
and strokes the head

of a spotted dog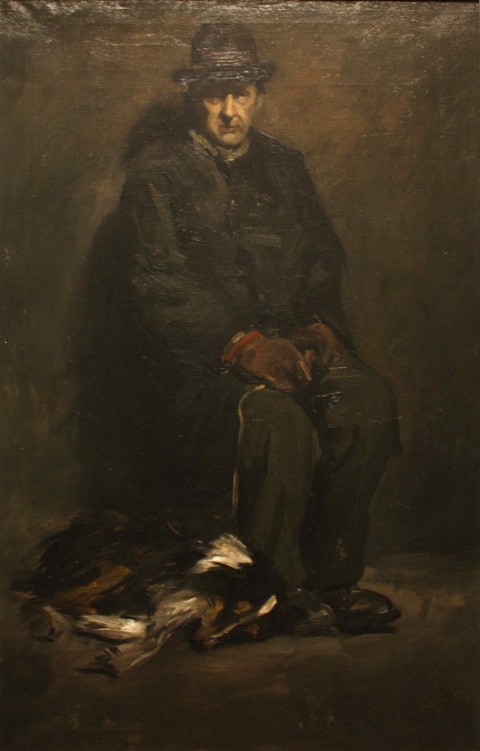 The dog and the man deserve better.  The struggle continues. It will not end easily, as Tuesday's results remind us.  But to mix references and speakers of very different histories, the arc of the moral universe is long.  But that we can conceive of the idea of justice allows us to bend that arc towards the just end.  (And yes, I'm feeling my Anselm just a bit today.)
Image:  George Wesley Bellows, Man and Dog, 1905.