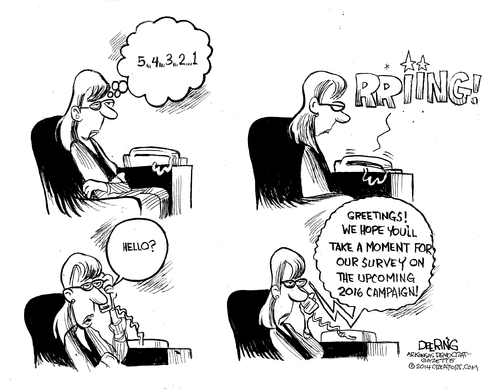 .
Before all three rings fill up, while the audience is still finding seats and the acrobats are checking the wires, the circus starts with a lone clown in the spotlight. Eric Wemple's Washington Post headline was promising — too promising. "Fox News cuts ties with Ben Carson":
Following an ABC News report that Fox News contributor Ben Carson is set to air an hourlong ad/documentary "introducing himself to the American people" as part of a 2016 Republican presidential bid, Fox News has cut ties with him, according to a Fox spokeswoman…

The next step in that progression is a surprise to absolutely no one. Carson, 63, has openly talked of the appeal of running for president, including on the airwaves of Fox News… Carson at one point expressed concern that a 2016 election might not even be held because there might be "so much anarchy going on."

In the 2012 election cycle, Fox News ended the contributorships of Newt Gingrich and Rick Santorum as those men moved toward presidential bids. A similar cutoff occurred with Scott Brown, who was a Fox News contributor prior to his failed 2014 New Hampshire Senate campaign…
And we all remember how well those three guys did, out in the world beyond the Wingnut Wurlitzer. I'm assuming Dr. Carson's new fillum is modeled on the Gingrich model (expand awareness of the brand, to increase speaking fees & product sales) rather than that of Sanctorum (establish 'next in line' credentials, while simultaneously making even your paid supporters loathe you) or Cosmo Boy (lose repeatedly, but in a manner entertaining enough to keep one's name 'relevant').
Because I love you guys, I risked the good health of my hard drive by spelunking over to the Carson infomercial's loudest proponents, Dead Andrew Breitbart's idiot media offspring:
Armstrong Williams, whom Breitbart News Executive Chairman Stephen K. Bannon called an "entrepreneur, media personality, strategic thinker, and dear friend of Andrew Breitbart," joined Breitbart News Saturday to announce the nationwide release of the biographical documentary on Dr. Ben Carson, A Breath of Fresh Air: A New Prescription for America…

People will be so impressed with Carson, according to Williams, because "they think that they know him. But, they will be amazed when they see this story. He is such a good man. He is such a genius. He's different. He's not an ideologue. He's a very caring person." Beyond this, however, Williams reminds us that Carson is a surgeon by training and, as a result, he is very decisive…

Bannon asked Williams why would Carson want to descend into the "muck and grime" of what modern politics has become. Williams replied, "As his business manager, it is the last thing that I want him to do." But Williams goes on to assert that watching Carson is "like watching a tsunami—he's a strong wind every day. I see him change, it's like watching the Ten Commandments, watching Moses when he found out what God had for him—he became renewed and refreshed."

Williams recounted that he has reminded Carson many times of the evils of politics, how people will try to destroy him, tear down his family, and undermine his reputation, which Carson spent a lifetime building. Yet, Williams explained that Carson told him that "I feel a deeper calling here, I can't say I won't do it, I can't say I will."

He reminded Williams of how critics undermined Lincoln and made him look goofy and unqualified to hold office, yet he made the world a better place to live, even though he gave his life. Carson also said,"You know there is some things worth dying for, there's some things that if it causes you to lose your reputation it's worth it, because it is not about me. If people see in me, something that I have, that can move this country forward, then that is what I'm going to do." …
It's the Lincoln comparison that's the cherry on this BS sundae. But the punchline is, I can see one or another of the GOP's Seventeen Dwarves of 2016 offering Carson the vice-presidential slot (although I'm not sure Carson would accept it). Not Santorum or the other godbotherers, of course, or the stone egomaniacs like Ted Cruz. But Jeb!Bush or Scott Walker or Romneybot mk.3 might decided the free publicity (post-racial GOP!) was worth the aggravation.