I was having a good productive discussion with a commenter via e-mail yesterday on window shopping.  We were trying to figure out what plan made sense, and the big challenge was reading the label at Healthcare.gov.  During the discussion, I had some fun with SnagIt on an example plan, and realized that this could be useful for a lot of people when they look at their health insurance choices:
So let's work our way through the label: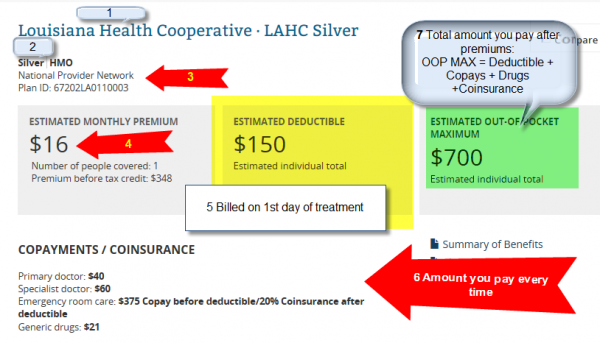 1) Insurer name and Insurer plan name.
2)  Metallic band level and basic plan design.  The band levels are rough estimates as to how valuable the coverage is.  Bronze covers 60% of expected average costs, Silver usually covers 70% of expected average costs,  Gold covers 80% of expected average costs and Platinum covers 90% of expected average costs.  I don't like that there is no indicator of Silver Cost Sharing Subsidies nor the level of cost sharing assistance as a Silver with maximum assistance is better than Platinum.
3) Network — insurers can call their networks anything, so this is moderately informative.  My company has Mayhew Narrow, Mayhew Middle and Mayhew Broad, so you can compare like to like.
4) Premiums are what you pay every month
5) Deductible is what you pay before any insurance kicks in.  There are non-deductible services (Annual wellness exam, Ob/Gyn, contraception, vaccines etc) but if you are having surgery for itchy elbowitis (and yes, I was watching a show about a slightly bossy 6 year pig last night) , you would be liable to pay $150 before insurance does a thing.
6) Copayments are what you pay every time you use a service.  In this case, a visit to a primary care doctor for illness costs $40, while a visit to an orthopedist or other specialist costs $60.  This particular plan is pushing real hard to keep people out of the Emergency Room with a very high co-pay.  Coinsurance is your share of the cost after the deductible is paid but before the out of pocket maximum is reached.
7) Out of Pocket Maximum is the most you'll pay over and above your premiums in a year.  It is the sum of your deductible, your co-pays, and your coninsurance.
So let us walk through an example. 
Let's say you are reasonably healthy but you have a severe case of itchy elbowitis that requires an elbowectomy in January.  Elbowectomies are major surgeries.  The surgeon, anesthesiologist and hospital will present $30,000 in bills to your insurance company.  Since you stayed in network, the insurance company has contracted rates that brings everything down to $7,500.
You are responsible for a $60 co-pay for the surgical prep visit the week before surgery.  The prep visit has a contracted price of $125.  You are also paying $65 towards your deductible.  The prep visit will cost you $125.
You go to the hospital on Tuesday morning, and by Tuesday afternoon, there has been a sucecssful elbowectomy, and you are in bed recovering.  You're on the hook for another $85 of deductible, so there is still $7,415 outstanding.  You have a 20% co-insurance that will apply to the next $2,450 in charges.  This will mean you pay $490 and the insurance company pays $1,960.  Now you have hit your maximum out of pocket limit for the year.  The insurance company writes a set of checks for $6,925 to the various billing entities.
Your rehab is now cost free to you.  And if you come down with pink-eye in July, that visit is cost free to you as well.