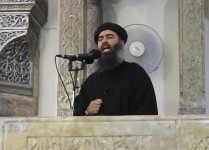 There were rumors that Abu Bakr al-Baghdadi, the raving kook who is the self-proclaimed Caliph of ISIL / ISIS / Islamic State and who appears to share former FL Governor Charlie Crist's fondness for portable fans, was killed in a recent US bombing raid.
But he appears to have released a new audiotape referencing recent events, including President Obama's decision to deploy an additional 1,500 US troops to Iraq, so he's still alive. Bummer.
Please feel free to discuss the ISIS lunatics, the wisdom of continuing US involvement in Iraq or any other topic — open thread.