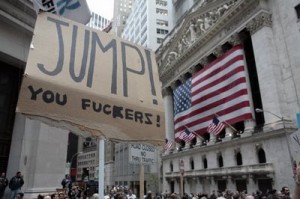 ***
And the banksters continue to screw us all:
In the netherworld of consumer debt, there are zombies: bills that cannot be killed even by declaring personal bankruptcy.

Tens of thousands of Americans who went through bankruptcy are still haunted by debts long after — sometimes as long as a decade after — federal judges have extinguished the bills in court.

The problem, state and federal officials suspect, is that some of the nation's biggest banks ignore bankruptcy court discharges, which render the debts void. Paying no heed to the courts, the banks keep the debts alive on credit reports, essentially forcing borrowers to make payments on bills that they do not legally owe.

The practice — a subtle but powerful tactic that effectively holds the credit report hostage until borrowers pay — potentially breathes new life into the pools of bad debt that are bought by financial firms.

Now lawyers with the United States Trustee Program, an arm of the Justice Department, are investigating JPMorgan Chase, Bank of America, Citigroup and Synchrony Financial, formerly known as GE Capital Retail Finance, suspecting the banks of violating federal bankruptcy law by ignoring the discharge injunction, say people briefed on the investigations.

The banks say that they comply with all federal laws in their collection and sale of debt.

Still, federal judges have started to raise alarms that some banks are threatening the foundations of bankruptcy.

Judge Robert D. Drain of the federal bankruptcy court in White Plains said in one opinion that debt buyers know that a bank "will refuse to correct the credit report to reflect the obligor's bankruptcy discharge, which means that the debtor will feel significant added pressure to obtain a 'clean' report by paying the debt," according to court documents.
I mean, it's only a court order, right?
Look, we all know how this is going to play out. They'll be investigated, determined to be guilty, they'll make a deal where they pay a pittance in fines, and maybe, if we are lucky, stop the practice for a while and move on some new and novel way to screw us, and then get back to business as usual. Meanwhile, the fines will come nowhere near to the profits they made, and all the while bankster friendly politicians will re-write the laws to make what they were doing legal or to further weaken regulation so next time they won't get caught or we won't have the means to investigate them. All the while, we'll be heaping praise on human detritus like Jamie Dimon.
If you are a sociopath, what the banks are doing make complete and total sense. They're just responding to the incentives we have created for them.