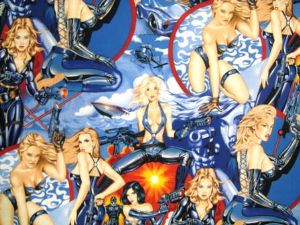 Hat tip to Citizen Commissar commentor Morzer for the TPM link:
Rosetta project scientist Matt Taylor happily showed off his tattoo of the Philae lander to the media on Wednesday, as the spacecraft approached what would be the first ever landing on a comet.

But it was Taylor's colorful shirt adorned with images of scantily clad women, not his tattoo, that ended up drawing the most attention — and not in a positive way…
Turns out a friend made Taylor that shirt, little knowing that he would fail the "time & place" test..
I made a shirt for one of my close pals @mggtTaylor for his b'day. Did not expect this!! #shirtgate #shirtstorm #Rosetta #Shirt #sewing

— Elly PriZeMaN (@ellypriZeMaN) November 13, 2014
As a fabric collector, I've seen plenty of "hunks & hotties" novelty prints — here's a source for the print in question.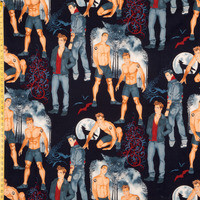 Or you could go with the beefcake selection…
.
.
.
But, seriously, there's a ton of astronomical & astronaut-themed prints that won't get you in trouble, including spacefields with metallic accents or glow-in-the-dark stars (note the little girl astronauts in the retro print):
… and that's just the big commercial retailers; if you want something really arcane, check out Spoonflower, where you can even design & print your own (trading cards! space otter!) yardage: